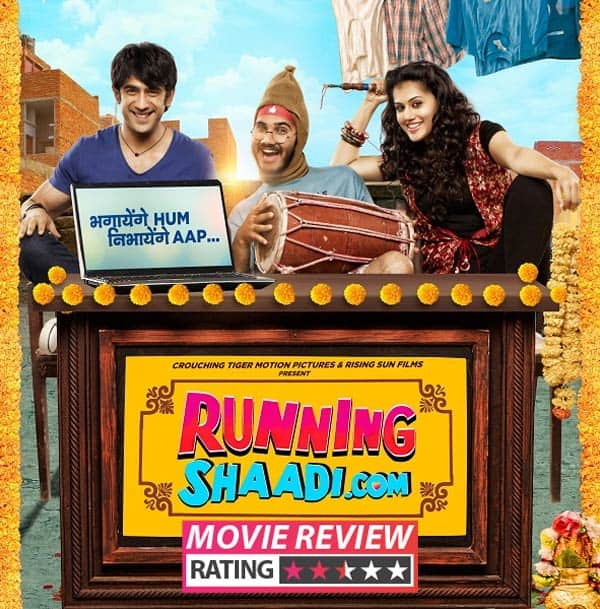 Didn't the name of the movie say it all? Yes it's about a business made by helping people run away and get married. Of course apart from the cute chemistry of the actors in the movie, perhaps this film too focusses on unnecessary things. Well, keeping the concept very millennial friendly, the makers have done a good job to deliver a decent romcom. After a series of action and drama films that released in the recent past, Running Shaadi will shine out as a cute romcom. It may look like a quirkier rendition of Band Baja Baraat and to be very honest, it sort of is! Starring Amit Sadh and Taapsee Pannu in lead, the film revolves around how love and business collides, resulting in a big nuisance and finally it all works out well.
What's it about
Ram Bharosa (Amit Sadh) works for Nimrat Kaur aka Nimmi's (Taapsee Pannu) father's bridal sari shop and has forever been in love with her. But somehow nothing beyond friendship pans out between them. They both like each other but there are constant perils that affect their relationship. Meanwhile, Bharosa has a tussle with Nimmi's father. In anger, Bharosa walks out and decides to start a business for couples who wish to run away and get married. You see, Bharosa likes to have a plan and that's exactly what he does as he helps couples take flight. Everything is going fine until one day when Nimmi walks in and says she wants to run away with her supposed boyfriend 'Shunty' whereas she actually plans to trick Bharosa into running away with her. What happens next is a mix of laughter, romance, serious drama and even action!
ALSO READ – Running Shaadi director Amit Roy opens up about the controversial title change – watch video
What's hot
It's a classic boy loves girl, girl loves boy phenomenon but they have external perils. Initially we get to see Nimmi's badass side. Taapsee's performance as a Punjabi belle with this snarky personality is really good. On the other hand, Amit as the humble and shy Bharosa hailing from Patna will make you fall for him! He's such a sweetheart to Taapsee's character that you'd definitely want a man like him in your life. If you notice, the balance between Amit and Taapsee's characters have been done really well by the writers. Director Amit Roy who marks his debut, does a good job as he captures some really good moments from Bhatinda to Patna. Also, the comic timings will definitely crack you up!
What's not
What's new? Apart from the idea of opening a shop that allows you to safely run away with your bae is a consultant a lot would want to go to! But the way they show the consequences, with humour being it's prime element makes it slightly hard to buy. At one point in time during the movie, Taapsee's character actually reminds us of Ayushmann from Jab We Met. Yes, the man who Kareena supposedly likes. She makes faces and whines about the fact that she will be pretending to be just a friend while Amit's uncle marries him off to someone else. Man, that was quite annoying. There's nothing new for the film to offer. It's the same concept, same lovestory, same melodrama and yes, everything about the film is very predictable. And believe me, I haven't even watched the trailer and I could tell what will happen next. Perhaps if they focussed more on the business and weaved a story around that, keeping Amit and Taapsee's love angle aside, it would've been a better watch.
With so many serious and hard-hitting films that have come up recently, this would be a light hearted comedy to have a relaxed weekend. Apart from that, wouldn't really recommend it.
Rating:
out of 5
Reviewed by Aarti Iyengar
* Poor
** Average
*** Good
**** Very good
***** Excellent