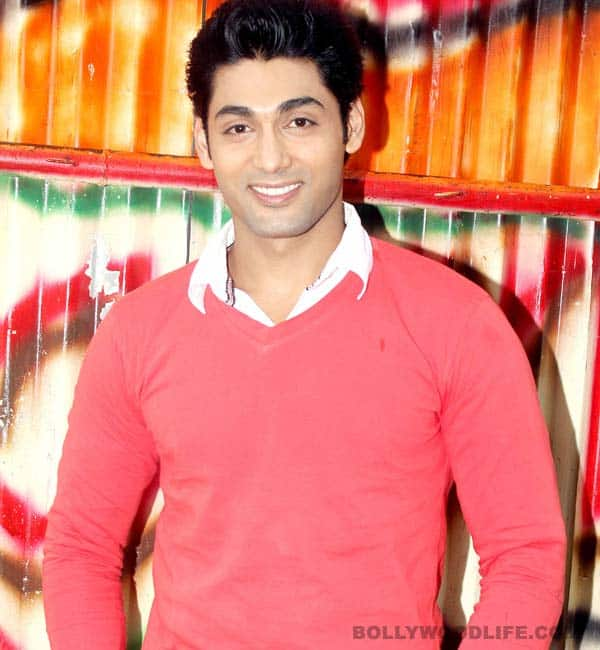 It's a big move for film stars to feature in daily soaps and the actor does it with no qualms whatsoever….
At 30 Ruslaan Mumtaz decided to take on the biggest challenge of his life by working in television. Now that's a daring step, we think, but the actor says that it's just like an acting workshop for him. He claims he doesn't know how to behave around his seasoned co-star Sangeeta Ghosh, but guarantees that with time, he will ease into it. Ruslaan talks about his new show Kehta Hai Dil… Jee Le Zara, his inhibitions about doing television, his biggest asset and his take on marriage….
Why did you choose this role?
When I got a call from Rose Productions, they told me the serial would be directed by Sidharth Sen Gupta and written by Niranjan and Umer and feature Sangeeta Ghosh as the lead opposite me – I just couldn't not take it. I did question myself if I wanted to do TV or not, but the role was too good to ignore or refuse.
Was it a conscious decision to do a daily soap?
Frankly, I never planned my career like that. I had never planned to be an actor in the movies. I was a theatre artiste and I modelled in ads. Then a film came my way and I took it up. So every step has been a natural progression for me.
At this point in your career, are you happy with everything you decided to do?
I have never really analysed my career. Ideally, my journey is still on; until I reach my destination, I cannot retrospect. And I know my destination is very far off, so when the time comes I'll sit and think about these things. Until then I'm still walking.
What was the first thing that pulled you in to Kehta Hai Dil … Jee Le Zara?
The first thing was Sangeeta Ghosh, obviously. I have worked with newbie actors all throughout my career; this was like a golden opportunity to learn something from a seasoned actor like Sangeeta. She is critically acclaimed, successful on TV and I thought there's no one better I could enter TV with. This is like an acting workshop for me.
How different do you find TV from movies?
You don't get time here. You are given a script, your make-up is completed and someone informs you that your shot is ready. In the past, I would get my script at least two months in advance. I would read it a dozen times, do workshops with the director and co-stars and then come to the sets for the shoot. By now I'd know everyone's dialogues. Now just to learn my dialogues itself is a monumental task. Now when the director says 'action', I get nervous and forget my lines. But luckily they are all very patient with me, since I am the newcomer.
Is there pressure to perform well?
I believe that the pressure makes it difficult, but not impossible. I have worked with fresh faces in films, so no one has ever compared my work with anyone, but here working with Sangeeta and her level of experience is tough. I have to keep up with her level if I want to be appreciated.
What according to you is your biggest asset?
My biggest asset would be that I do not take my success or failure too seriously and I look at my career as a journey. I never see anything as an end. If tomorrow my show is super successful, it's not the end for me – it goes on.
Do you watch daily soaps?
Yes, I watch .Bade Acche Lagte Hain I really like Ram Kapoor and Sakshi Tanwar – their acting style is very realistic.
How did you prepare yourself to play Dhruv?
As every character is different, I've had to prepare my own role. If I copy someone, it would look bad. So I've kept it original.
Who is Dhruv, according to you?
Dhurv is a 27-year-old lawyer. He hails from an influential and rich family. He has enjoyed life, and is spoiled, in a way. He's over confident, outgoing, sociable, and communicative and an absolute contrast to Saanchi.
Were there any reservations in romancing an actor much older and more experienced?
Initially, yes! I can't be very pally with Sangeeta. Normally when the director says pack up, we all hug each other and say good bye, but with Sangeeta I didn't know if I should shake her hand or put my arm around her. There's a difference in being a friend and a co-actor, and it is easier to be a friend when you are of the same age group. But here things were different. You don't know how comfortable you should get or can get. She has broken the ice, but I took time to be at ease.
How do you manage shooting for films and your TV show?
I will take time out to do my movies, to finish all my incomplete work as and when needed. My production house is very supportive that way.
Where would you like to keep yourself busy – in films or television?
Actually, I want to keep myself busy in front of the camera, whether that's television or films. Honestly speaking, an actor can keep himself busy doing theatre also, but it's tough. This is much easier.
Where do you get creative satisfaction?
I believe that's in theatre. When you're on the stage, no one can help you. Whatever has to be done, the actor has to be ready for it. Here if you make mistakes or forget, there is an option for a retake. Theatre doesn't give you that. That ego boost for an actor can only happen on a stage.
Are you open to doing reality shows?
Yes, definitely! I would love to do a reality show – I watch a lot of them, like Jhalak Dikhhla Jaa and Nach Baliye.
What have you learned from your mother?
I've learnt from my mother that successes and failures are not be taken too seriously. They come and they go. And never think that the love that audiences shower on you can ever replace your family's love. So in a way, I give more importance to my personal life. My personal life, my family, is more important than my work.
Do you plan to get married any time soon?
I've fallen in love many times, but the shaadiwala love that converts to wedding love has not happened yet. Right now, I do everything for my parents and myself. And I'm not mentally prepared to devote time to anyone else at this point of my life. If I find a girlfriend, my personal life would become more important than my work. I've been taught that when you get married you should not treat that person as secondary. Respect is very important. Right now I can either respect my work or my girlfriend. For me to balance this is difficult right now. Once I am settled in my work, then I can think about these things.
If you're asked to do a leap, play an older version of you, would you take that up?
I think I wouldn't be able to do something like that now. Mainly 'coz there is a certain kind of image in the industry that I cannot deny, so I'll stay away from things like these.