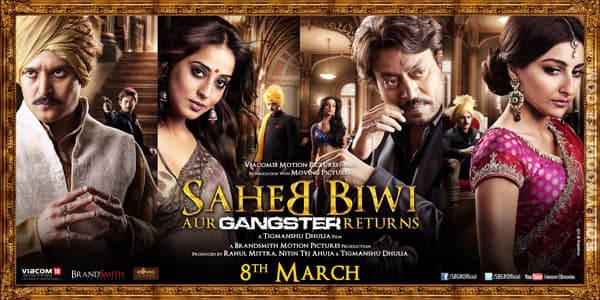 A violent drama set at the crossroads where fading relics of Indian royalty, gangsters and politics meet to weave an engaging tale of crime, lust and betrayal
After making Saheb Biwi Aur Gangster, it seems director Tigmanshu Dhulia saw so much potential in the set-up and the space where the film was based, that he was determined he could justify a sequel. And the film Saheb Biwi Aur Gangster Returns, not only justifies its existence as a sequel, but goes on to become so much more. It's definitely a marked improvement over his previous film and Tigmanshu's best work yet.
A love story at its heart, it's atypical the way love stories play out. And though a sad ending, the path it takes to reach there is a complete roller coaster ride through the scheming feudal ways of Indian royalty. There are four main characters in the film – Jimmy Shergill as Aditya Pratap Singh, the ballsy and brooding 'Michael Corleonesque' king of a small village who is active in politics and plays real dirty with his fellow kings -turned-politicos. He sits paralysed on the wheelchair, brooding and waiting to recover. Meanwhile, his wife Mahie Gill, who betrayed him by having an affair with a driver in the earlier part has turned an alcoholic now. The king, in the manner befitting to kings, wants a second wife and he coerces Soha Ali Khan's father into an alliance with his pretty daughter. Soha's lover meanwhile, Raja Bhaiyya (Irrfan Khan) is a goon turned politico with a feudal past.  He has a score to settle with Jimmy that goes back all the way to the time when the neighbouring kings fought amongst themselves and killed an entire generation of rivals. Irrfan is one such descendant whose grandfather survived the onslaught by Jimmy's ancestors and now as the banished king, he seeks revenge. And his thirst for revenge increases when Jimmy coerces his beloved into marriage.
Inspired writing, cracking dialogues, strong and well defined characters, and an ability to show the viewers what the insides look like in a scenario where kings, gangsters and ministers all try to outdo each other for power, the movie is clever and ambitious and keeps you glued. It seeks blood, yet it's funny too. The humour is dark, sensible and in good taste. Even the smallest of characters make a great impact – right from the illiterate, masochistic politicos from the hinterlands, to the faithful Luca Brasi like bodyguard who always lingers on the periphery, protecting his master.
The film is this year's strongest love story yet, and it moves and changes with a modern TV series like pace.
Irrfan Khan, as usual, spells magic on screen. Poet, gangster, politician and a king – he plays them all effortlessly. Jimmy Shergill too has given his best. You can feel him thinking in scenes, and his cockiness as a monarch is spot on. Soha is effortless as royalty, maybe because she is one, but a believable performance nonetheless. Mahie too is perfectly cast as the lusty, hungry-for-love wife and justifies the way her role is written.
The characters in Saheb Biwi Aur Gangster Returns are crafted so well that the conflicts they share become easily identifiable and understandable. Even though it's a complex film, it achieves its balance and doesn't drag even for a second as its layered story reaches its bloody conclusion!
Rating:
out of 5
Reviewed by Reza Noorani
* Poor
** Average
*** Good
**** Very good
***** Excellent