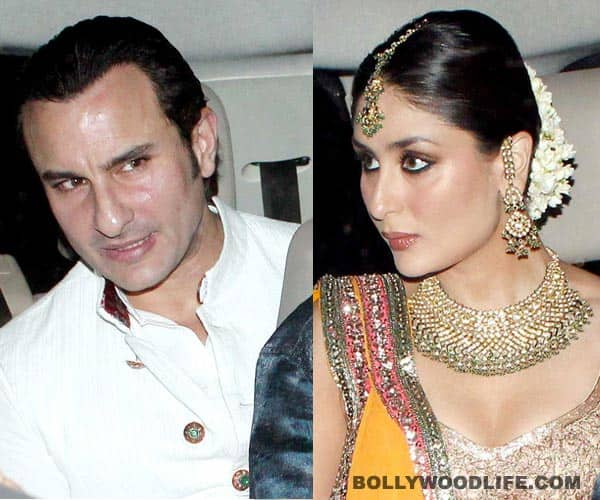 skip advertisement
All those who thought that the wedding is going to be a bland sign-and-get-married affair it's time to gear up for a surprise
A day after Saif Ali Khan and Kareena Kapoor's sangeet…oops…private party, the pics and the buzz from the venue and its harrowed neighbours have been pouring in. Yup, birdies are insistent that it was indeed a 'party' that kept the neighbours awake well into the night till the sleepy souls just couldn't stand it anymore and had to ask the police to intervene.
Anyway, raat gayi baat gayi, so let's not keep mulling over that episode now. And that too when we have a great D-day to focus on! Yup, Saifeena were finally pronounced man and wife between 11.30am-12pm today when Saif sent his car to fetch Registrar Surekha Lokhare from Bandra Family Court today.
But Saif and Bebo's wedding won't comprise only of the cut-to-cut legal procedure. A khabru informs us that the couple is all set to exchange wedding vows in this evening. Wondering why the wows when neither Saifu nor KK is a Christian? For those who came in late, Kareena's mommy Babita is a practicing Christian and that's why the beti and damaad have decided to go ahead with this traditional ritual. Awwww!
And all this only makes us look forward to the Saifeena wedding. Imagine a coy looking Kareena walking down the aisle to the man of her life – Saifu. What a delightful sight it would be, no?
Post that a grand reception has been planned for tomorrow night in one of the Mumbai's swanky five star hotels after which the couple, along with their respective families, will fly down to the Pataudi palace for the Daawat-e-Walima that's been scheduled for October 18.
BollywoodLife wishes you a very happy married life Saif and Kareena. Cheers!
Here's a sneak peek at the pics taken after yesterday's party. Take a look!
ALSO SEE:
Saif Ali Khan and Kareena Kapoor sangeet ceremony pics: Amrita Singh's daughter Sara attends!