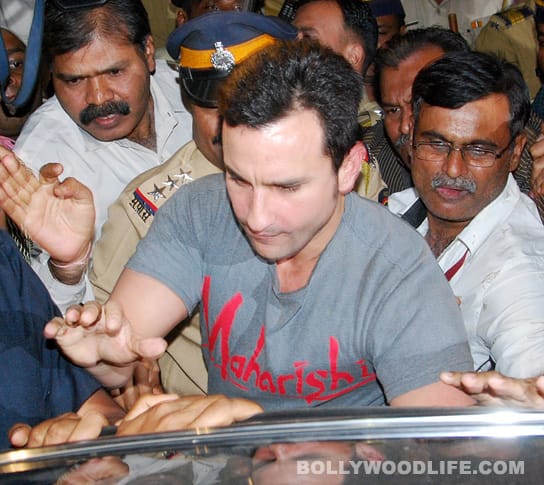 With one month left before his ambitious movie Agent Vinod releases, Saif finds himself embroiled in an unexpected controversy
Saif Ali Khan probably had no idea when he got together with his friends for dinner on Tuesday night that it will end with him having to be bailed out from jail. But that's what happened. Saif was arrested and then released after a bail of Rs 3000 was posted. Saif immediately held a press conference and gave his version of events. He claims that he was dining at Wasabi, the Japanese restaurant in the Taj Hotel in Colaba with Kareena, Amrita Arora her husband Shakeel Ladak and Malaika Arora Khan when, "my friends and the ladies with us were abused and I was assaulted". He added, "I was hit and I defended myself. I don't think any gentleman would have behaved differently."
However, his alleged victims Iqbal Sharma and his wife claim that Saif and his group were talking loudly at the restaurant and disturbing the peace. Iqbal and his family then decided to shift to another section of the restaurant. On the way, Saif met them, called them idiots and allegedly hit Iqbal's father-in-law. Iqbal apparently had no idea as to Saif being a famous personality. He filed a complaint with the local police. Apart from Saif, Shakeel and Bilal Amrohi too were arrested but later released on bail.
You can read the detailed story here:
Saif Ali Khan booked for assaulting businessman!
Was Saif Ali Khan hiding from cops at girlfriend Kareena Kapoor's home?
Saif Ali Khan arrested in assault case
Saif Ali Khan released on bail of Rs 3000