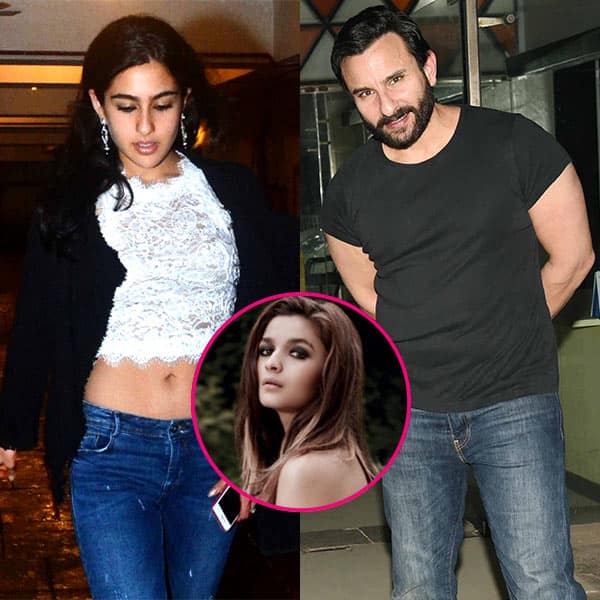 Could it be that Sara Ali Khan's debut has been delaying for a while now because of daddy Saif Ali Khan? Sara Ali Khan is the next big thing and fans simply can't wait for her debut! But for a long time now, there have been rumours of films she has been offered or the ones she might take. No concrete answer has either been given by Sara or her parents Saif Ali Khan and Amrita Singh. Although both have been very supportive of her Bollywood plans, a source told Pinkvilla that Saif isn't too keen on Sara debuting with Dharma Productions. The doting daddy fears that she might become another Alia Bhatt in the industry. There have been numerous rumours of Sara being launched in the industry by Karan Johar. Kareena Kapoor Khan is ecstatic about this news, however, Saif isn't.
A source told the entertainment portal, "Kareena and Saif have been having some disagreements about Sara's career. But Saif really does not want Sara to follow Alia's footsteps. Kareena and her girl gang always talk about how Alia's career wouldn't be the way it is if Karan hadn't launched her. The industry apparently thinks that KJo is too involved in Alia's career as he still keeps recommending her to big directors and mega projects. Saif does not wish for someone to have that kind of effect on Sara's career. He thinks she should be more independent. While Kareena understands Saif's line of thought, she feels one movie with Karan would not harm to Sara. She also promised Saif that she will make sure KJo does not get too involved in Sara's career." (ALSO READ – Sara Ali Khan makes a smashing appearance at Karan Johar's all-singles Valentine's bash – view pics)
It is pretty evident that Alia is a total Dharma girl. From the genesis of her career up until now, she has been strongly connected with KJo's production house. Apart from her immense talent, it's the fact that she is choosing right movies for herself, that has made Alia quite huge in the recent times. Karan definitely has a hand in the success of the young actress as he has constantly been recommending her name for big projects. Maybe that's why Sara's debut plans are put to a halt? Because there have been so many reports of her being in talks with films but none have taken flight. (ALSO READ – The curious case of Sara Ali Khan's much awaited Bollywood debut…)
Earlier, we had told you how Amrita had issues with Sara joining hands with KJo. Reason? Same as Saif's! We exclusively told you, "Amrita doesn't want Sara to be Karan Johar's next discovery is because she fears Sara will be lost amidst the many star kids Karan has launched in Bollywood by far including his favourite, Alia Bhatt. Yes! Turns out Amrita wants Sara to stand out and be a star of her own than be an addition to the league of famous star kids who are already ruling the industry," our source had told us. We wonder what Sara has to say amid all this? Is she interested to team up with Karan or does she want to go by her parents' wish?
What do you think she should do? Write to us in the comments box below.