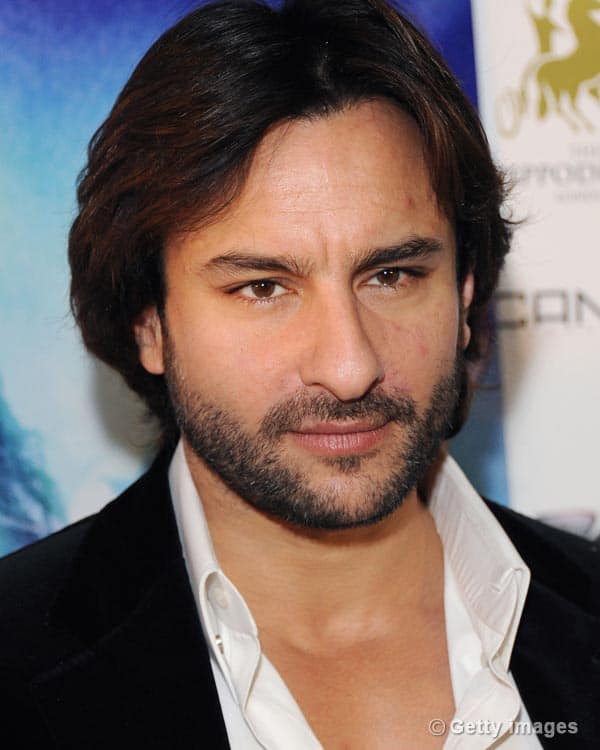 A very funny Saif Ali Khan, who was in a very playful mood in London, talks about his latest home production and his roles in Go Goa Gone, Bullett Raja, Hamshakals et al to journalist Ashanti Omkar

This time it's our most exciting interview since it's for a zombie film – Go Goa Gone – a genre untouched thus far in Bollywood…
(Laughs) It's nice to have something not just new to talk about, but because life is short and it's important to spend your day aptly or interestingly occupied. Some of the films that one does are absorbing as an actor, but others are more satisfying in a way because they're more fun really. Some films carry responsibility. I'm not saying that they're crap (laughs), I'm just saying that this was a lot of fun to do.
You're also co-producer of this film (Illuminati Films) and this is perhaps a rather dangerous topic to take up from a money standpoint…
Well, yes and no – if you get it right, it could be very lucrative and generally a good idea, and if you don't then you know nobody will listen to you ever again and that's how it goes (laughs).
Do you like zombie films? What made you pick this?
I don't like zombie films, actually. I have no idea why I picked this (laughs). But seriously, it's really funny. It is not necessary to like zombie movies to enjoy this film. It's the adventures of these two guys played by Vir Das and Kunal Khemu. Vir plays a guy called Luv who is really nice; he lives with Khemu's character Hardik, who plays a dopehead who doesn't work hard at all. Luv tries to clean up his life because he wants to propose to his girlfriend, who turns out to be quite unfaithful – sometimes that's how it is, when you meet these lovely boys. So the girl is the naughty one here. And Hardik, whose name resonates differently internationally (laughs), plays this Casanova type dude. And together their energy is quite phenomenal, when they end up going to a rave party in Goa. When things go horribly wrong and everyone there becomes a zombie, their only hope of escape is Boris, played by me.
So, Boris – you – what's he all about?
He's a wannabe Indo-Russian mafia guy, played by me…
And you like killing dead people?
Evidently it is a pastiche or take off on the Manoj Night Shyamalan line from The Sixth Sense: "I see dead people". I hadn't actually realised the genius of that till today and it's quite a brilliant caption. 'I kill dead people', not 'I see dead people' (he says it in his Russian accent from the film).
And the accent – did you have to work on that?
Yes, a little bit, but I'm quite familiar with the Russian accent, don't ask me why. Maybe because we filmed Agent Vinod in Russia and we had an amazing experience in Saint Petersburg and they're really nice people – they really are! They're amazing.
Did you watch any zombie films in preparation for this?
I'd seen little bits, but traditionally, they've been really B-grade and I've not seen Sean of the Dead or Warm Bodies or anything. I used to see vampire movies, like Bram Stoker's Dracula, made by Francis Ford Coppola, which was great. Evil Dead was another; it's not really about zombies, but rotting flesh, which was really disturbing. My cousin was watching it on VHS when we were kids and she said that I shouldn't see it as it would give me nightmares and, of course, I insisted on watching it and it did mess me up even further. Then the sequel was really funny though; it was only the first one that was frightening.
And Go Goa Gone, of course, is a comedy…
Yes, it's a comedy, which kind of saves it a lot. I don't think a full-on zombie horror movie would work. I think that people in India like a little humour in things. Suddenly if you say I'm making this zombie movie with a lot of humour, people would like that; but if you just make a horror movie or just make a spy thriller or something just concentrated on that genre, I don't know if it will have takers. And if you make a spy film with comedy, it will work.
The rave party where it all goes down and Boris saves the day is the premise of this film – is there a message?
I think that considering we're doing so many negative things – like drug abuse and the whole party that Boris organises to get people to take this designer drug – that's supposed to be really happening. But the fact is that it's that drug which turns everyone into zombies. So I suppose the message is that drugs make you into a zombie, into something that's walking dead. There is a point in the film where they decide to kind of give up drugs, while Boris has a solution of them taking more drugs because they seem really depressed, so he says you'll feel good, they say they want to deal with this on their own. We have put in the 'smoking is bad for your health' disclaimers throughout the film, but only for cigarettes, not drugs, ironically.
What's next for Illuminati Films?
We're going to work with the same directors, Raj Nidimoru and Krishna DK (known as Raj and DK). This time it's a romantic comedy about a writer who hasn't written a book in a long time, and he gets roped into writing quite a cheesy Bollywood movie with a really filmi hero who has all these security guards. I'm playing the writer, of course, (laughs). We're trying to cast the role of the Bollywood star – he doesn't have too long a role, but keeps using expressions like: "Let's kick ass, yaar!".
You have Bullett Raja and Hamshakals also…
Oh yes, Hamshakals is a comedy by Sajid Khan, which we're going to shoot here in London in September. That should be nice. And then there's Sajid Nadiadwala, the producer, with director Kabir Khan, and I'll be working with them later on in a different genre. Lots of work to do. Bullett Raja I think is a really cool movie that Tigmanshu's (Dhulia) made, and I enjoyed acting in it a lot. It was a complete kind of performance in terms of clothes, the accent of the character and the body language – it was all new for me, so really exciting. I look forward to that.