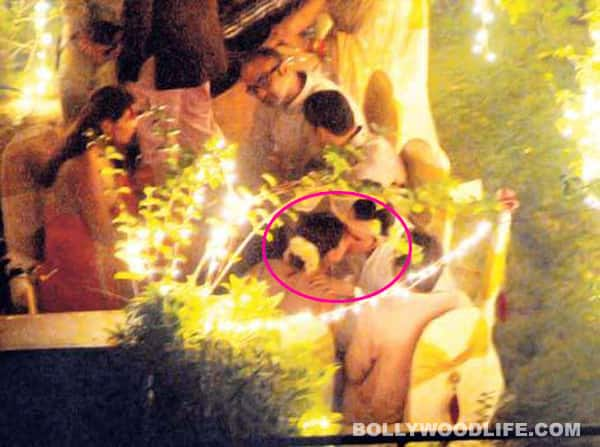 The newly married couple was photographed kissing by the paparazzi at their private pre-wedding bash
Over the past few days Saif Ali Khan and Kareena Kapoor have been busy with their marriage and the rigmarole that ensued. But before the actual shaadi, Bollywood's new Nawabi couple had a private bash to celebrate the occasion, with close friends and family as guests. Little did they know that the paparazzi had figured out a way to catch them letting their hair down…. Apparently a pesky photographer managed to sneak onto the terrace of an under-construction building adjacent to Saifeena's and got some really candid photos, one of them kissing.
News is that somehow Saif found out about this and obviously lost his cool. He was very upset with the building security who let the paparazzi in. He expressed his displeasure to the concerned authorities and the security men responsible for this breach were promptly sacked. We are glad that the Nawab of Pataudi behaved responsibly this time and didn't get into a flight, like he did at a multi-star hotel not that long ago. Perhaps marriage has changed Saifu and we really appreciate the new version of the hot-headed star!
Photo courtesy: HT
MORE WEDDING PICS: Saif Ali Khan-Kareena Kapoor wedding pics: Manish Malhotra gives us a sneak peek!