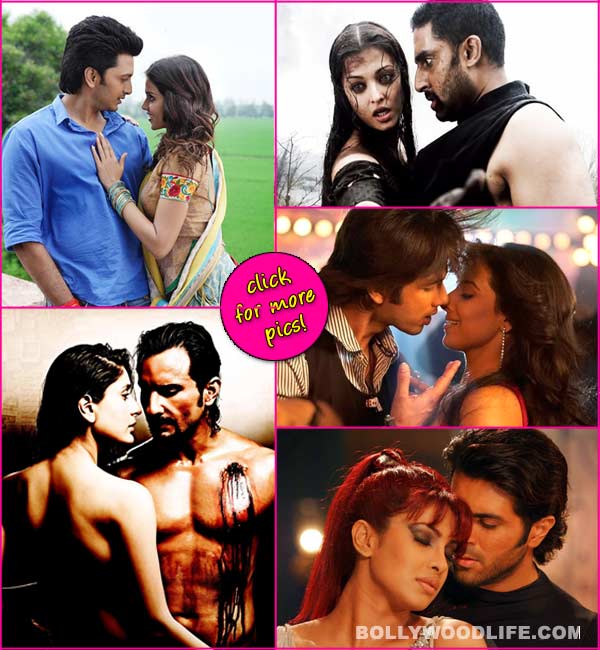 skip advertisement
Saif and Kareena are a popular couple, but only off the big screen. Their sizzling chemistry has never worked on the big screen. Let's take a look at other B-town couples who failed to impress with their movies
Recently, reports were doing rounds that Kareena Kapoor Khan rejected a movie opposite hubby Saif Ali Khan, and that, the couple isn't keen to act together anytime soon. We can't blame them, hai na? Saifeena might still be recovering from their box-office duds like Agent Vinod and Kurbaan. Anyways, Saif and Kareena aren't the only off-screen couple, who failed to impress the audiences on the big screen.
There are some more B-townies who fall under this category. Let's take a look!
Saif and Kareena: This couple has made it to the headlines due to their live-in relationship, marriage, pregnancy rumours et al. But they have never made it to the news for delivering a blockbuster.
Films they did together: Tashan, Kurbaan and Agent Vinod. L.O.C. (before they dated or got married).
-Tashan: Saif Ali Khan and Kareena Kapoor met during the filming of Tashan, which was ranked first in the list of the most-awaited films of 2008. However, Tashan didn't ring much at the box-office.
-Kurbaan: After Tashan, they both came together for Kurbaan. Despite receiving good response from critics, the film wasn't received well by the audience. If at all Kurbaan made it to the news, it was coz of the controversies around some scenes in the film being obscene.
-Agent Vinod: Saif and Bebo didn't stop with Kurbaan and thought of giving their onscreen chemistry another chance with the film Agent Vinod. Apart from the Raabta song, there's nothing that we remember about this film!
We aren't done yet though. Saif and Kareena had lent their voices to an animated film Roadside Romeo and that film too had bombed at the box-office! Tsk tsk!
Priyanka Chopra and Harman Baweja: The Exotic babe has stayed away from linkups in the recent past but she's had her share of rumoured affairs at the beginning of her career. Priyanka was linked with Harman and reportedly, things ended between them when she allegedly started dating Shahid. While Priyanka-Harman's love story ended long ago, they weren't appreciated much onscreen either.
Films they did together: Love Story 2050 and What's Your Rashee?
-Love Story 2050: Apparently, Kareena was signed for this film before Priyanka. Anyways, Priyanka and Harman were the final pair and the film was termed 'absolutely ridiculous,' 'immense disappointment' and the special effects were termed as 'inconsistent and amateurish.'
-What's Your Rashee?: In this film, Priyanka played 12 characters, according to 12 sun signs. The film was too long to be watched in one go and the entire focus was on PC. As for Harman, even if any sidey had been assigned the role, it wouldn't make much difference.
Riteish Deshmukh and Genelia D'Souza: These two have tried their luck with a few Bollywood films but each time, failed miserably. And just when they were about to tie the knot, they decided to give one last try.
Films they did together: Tujhe Meri Kasam, Masti and Tere Naal Love Ho Gaya.
-Tujhe Meri Kasam: Both Riteish and Genelia made their acting debut with this film, which was rated as below average in quite a few states. However, overall it performed well and it was said that it was due to his father's political influence…
-Masti: The film was declared a semi-hit. But that was more coz of the fact that, there were barely any adult comedy films in Bollywood during that period.
-Tere Naal Love Ho Gaya: Riteish and Genelia's chemistry was praised. But the film was termed as 'nothing unique or new.'
Abhishek Bachchan and Aishwarya Rai: This is yet another couple who is in the news more for their personal life than their films. They have worked together in 7 films. Yes, you read that right. And we are sure you can't recollect any movie except Dhoom:2, no?
Films they did together: Dhai Akshar Prem Ke, Kuch Naa Kaho, Umrao Jaan, Guru, Sarkar Raj, Raavan and Dhoom:2.
– Dhai Akshar Prem Ke: This film was a remake of A Walk in the Clouds. This movie was way before Abhi-Ash dated and got married. But even then they failed to make an impression.
– Kuch Naa Kaho: This film fared well at the box-office but the plot of the film was nothing ordinary.
– Umrao Jaan: Abhi-Ash's Umrao Jaan was panned by the critics. It was even quoted as 'a poor man's remake of the classic or a love story.'
-Guru: This was one film in which Abhishek and Aishwarya won the audiences' hearts with their performance. It was an amazing film!
– Sarkar Raj: This film brought together three Bachchans but it was no match to the prequel.
-Raavan: Aishwarya and Abhishek's Raavan was declared a flop at the box-office.
Vidya Balan-Shahid Kapoor: These two were allegedly dating each other few years ago. How, what, why, we don't know. But there were reports that Shahid criticised Vidya's weight too much and that's went things soured between them. Anyways, off-screen or onscreen, Vidya and Shahid weren't the most ideal pair. These two worked together in the 2008 film Kismat Connection. And everyone knows what fate had in store for Kismat Connection…
Well, that's all for now! If you think there are any more B-town couples who should stay away from working together in reel life, do tell us!