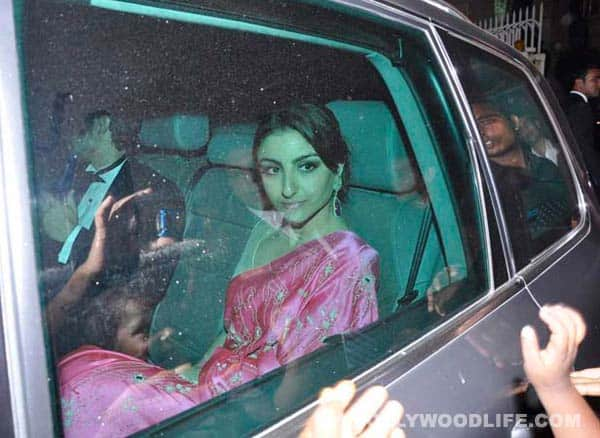 skip advertisement
The marriage of B-town's favourite couple was off limits for the aam janta. But guess what! We weren't totally oblivious about the goings-on in this royal wedding…all thanks to the Twitter savvy fashion designer Manish Malhotra
Saif Ali Khan and Kareena Kapoor were officially married on October 16. But the ceremonies and daawats continue even now. And why not? After all, it was the wedding that almost everyone was looking forward too.
And we guess designer Manish Malhotra, who happens to be pretty close to the Kapoor family, was aware of the curiosity surrounding the looks of the bride and the groom. And so he acted perfectly benevolent by sharing some delightful shaadi pics with the world on his microblogging site.
So what do we have? There's Bebo dressed in a heavily embroidered maroon sari with a matching sleeveless choli , an outfit that she wore during the reception. Then she was spotted in the orange-yellow ghagra that she wore during the pre-wedding party, where she is accompanied by Saif in an elegant white suit with an embroidered collar. We also see Bebo's sister Karisma Kapoor aka Lolo in two of the photos. In one she is wearing a beige sharara and in the other, an off-white one. And there's also darling cousin Ranbir Kapoor in a black suit with Bebo and Lolo by his sides. But that's not all! There's Soha Ali Khan peeking out of her car window, wearing a pink sari, and Karan Johar in an ink blue kurta and maroon stole posing for the camera (with that diva pout intact!) alongside Manish.
Hmmm, so 'elegant' is indeed the word to describe the Saif-Kareena wedding, no? And that's exactly how groom Saifu wanted it to be. Remember the buzz about how the Nawab wanted to follow his father Mansur Ali Khan Pataudi's style sense for his shaadi? Well, he did! And does the credit for this go to fashion designer Manish Malhotra? Well, yes, and to a couple of other people, including Ritu Kumar and Raghavendra Rathore!
So take a look at these snapshots, peeps, and tell us if they made you go 'wow!'.
Photos: Manish Malhotra Twitter
ALSO SEE:
Saif Ali Khan-Kareena Kapoor wedding reception pics: Shahrukh Khan, Ranbir Kapoor, Anil Kapoor attend!