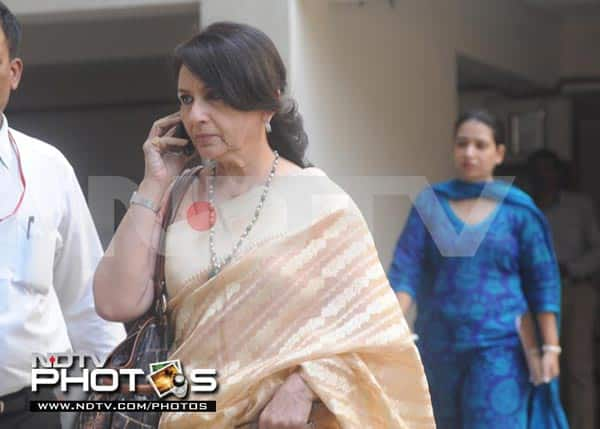 The couple said time and again that they wanted their marriage to be a simple, solemn affair with not too much show-shaa. And that is exactly what it was…
Kareena Kapoor and Saif Ali Khan are now officially married. And while that calls for a 'yay!' moment, we couldn't help mulling over the teeny-weeny details that kept this high profile wedding from glittering with all its star power.
First of all, Kareena did not marry a man named Saif Ali Khan, but one who is called Sajid Ali Khan. Ahem ahem. No points for guessing that that's apna Saifu's on-paper name. And maybe the Nawab didn't want his real name to be revealed to the aam janata. But alas, the fact came to light when a birdie happened to peep at Saifeena's marriage registration form.
But what's in a name? Precious little, perhaps. 'Coz brand new bride Kareena Kapoor Khan seems to know her now-official husband inside out. In a recent interview, Bebo candidly confessed that her beau is a 'one woman man' now, even as she didn't shy away from acknowledging her hubby's link-ups in the past, saying that Saif was a Casanaova and revealed that her man is a 'naughty boy' at heart. Oooh!
Now if this couple is so much in love with each other, then why didn't they celebrate their holy matrimony with an open heart, many wondered. Maybe the 'official' declaration (read: marriage) was just a formality for the two who have been living together for a while now. And that too after Saif sought his saasu ma Babita's permission to let her beti live-in with him. And while that might actually be THE reason, certain birdies chirped that it's because it is Saif's second marriage and he wanted to mellow the limelight on this one. Then there are others who solemnly point out that it's not yet been a year since Mansoor Ali Khan Pataudi's demise. And so Sharmila Tagore urf Ayesha Begum Sultana Pataudi wanted to keep this wedding low key.
Hmmm, even so, wethinks that the Saif-Kareena wedding is indeed getting its share of the flashbulbs with the reception scheduled at the Taj Mahal Hotel and Daawat-e-walima at the Pataudi palace. And, we know, the guest-list is bound to include the who's who of Bollywood.
So maybe the planning and execution of the Saif-Kareena wedding was a tad hush-hush, but the wedding itself…definitely not. What do you think, BollywoodLifers?
Take a look at Saif Ali Khan-Kareena Kapoor marriage pics!