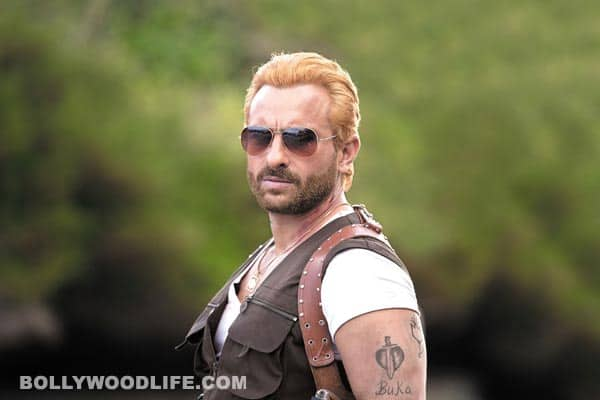 skip advertisement
A blond, twin-gun wielding Saif looks cool as a zombie hunter in his upcoming flick
Saif Ali Khan has donned many looks over the years, yet there seems to be nothing more radical than the avatar you will see him sporting in his upcoming zombie flick, Go Goa Gone.
Saif plays a Russian mafia lord called Boris, who is also a merciless zombie hunter. In the pictures, you will see Saif toting twin guns in Tomb Raider style, with his hair all blond, as he shoots the brains out of the unfortunate creatures! Besides having a mean, killer streak, Saif's character will also lean towards the funny side, albeit dark, as he goes on a killing spree. "I loved Boris from the first time I discovered him. He is tough and cool, but also very funny. He has a good heart and is brave. The dynamics between him and the boys is hysterical. I was very excited to play Boris – the zombie hunter, and even happier to produce this film," said Saif, whose company Illuminati Films is producing the movie.
Directed by Raj Nidimoru and Krishna DK (makers of Shor In The City), Go Goa Gone will be the second zombie flick after Luke Kenny's Rise Of The Zombie to hit the Bollywood screen this year. The film releases on May 10 and others actors in this zom-com include Kunal Khemu, Vir Das, Anand Tiwary and Puja Gupta.