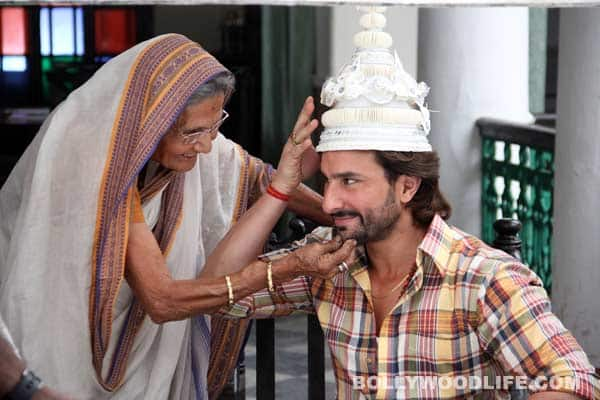 The Nawab will be seen as a Bengali bridegroom in Bullett Raja. Read on to know how history has repeated itself in the film
Buzz is that Saif Ali Khan will be seen as a Bengali bridegroom in his upcoming film, Bullett Raja. Sonakshi Sinha, who plays his girlfriend in the film, dons the role of a Bengali. We hear that Bengali actor Debjani Ghosh will play Sona's grandmother in the film. You must be thinking how does that matter? Well, Debjani has earlier acted with both, Sona's father Shatrughan Sinha and Saif's mother Sharmila Tagore. That's not all. On the day Sonakshi was born, Debjani Ghosh was shooting with Shotgun Sinha and now 26 years later, she's shooting with Sona. How interesting, no?
Well, Bullett Raja's behind-the-scenes do seem interesting. Now, let's wait and watch how good the film really is! Bullett Raja is slated for release on November 29.