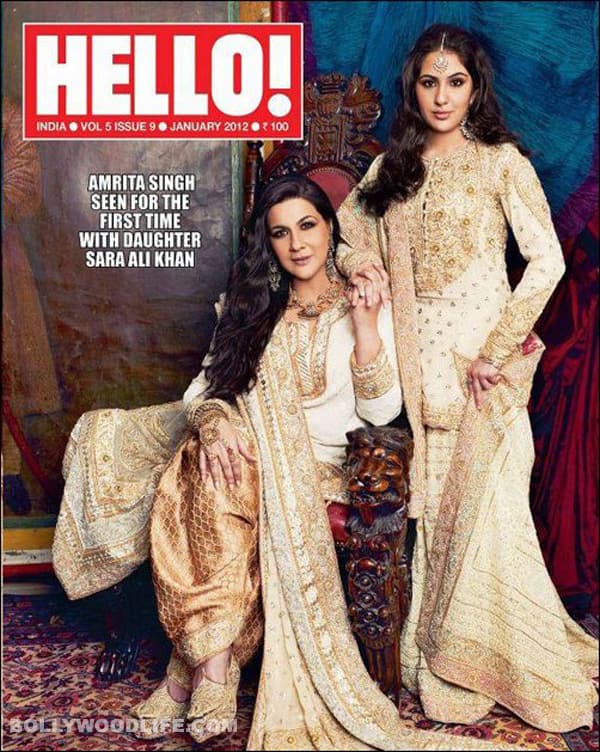 Soon after photographs of Sara Ali Khan dressed in designer garbs hit the stands, her mother Amrita Singh was besieged with phone calls of acting offers from eminent film producers
Ex-couple Saif Ali Khan and Amrita Singh's darling daughter Sara Ali Khan, dressed in a cream-coloured ensemble designed by designers Abu Jani and Sandeep Khosla, made her first public appearance on the cover of an international magazine, Hello!. Sara appeared alongside her mother Amrita in the pictures. If you take a closer look at the cover photo, you notice Sara exudes the poise and beauty that movie stars boast of. Guess she was born with it!
No wonder, her mother was inundated with phone calls from filmmakers to cast the 16-year-old as the leading lady in their films. But Amrita, who started out young as an actor herself, wants her little one to focus on her education for now. The prime reason behind the decision is that Sara is a bright student, so her mom wants her to explore other career possibilities before settling for the glamour world. Besides acting, Sara has strong calling for two other professions – medicine and law. Amrita feels Sara has the interest and intelligence for both careers. In an interview to a leading tabloid, the leading lady of the 80s said, "She is just 16. Sara is good at academics. She even plans to go for further studies to Yale University. So we need to give her some time. Won't it be premature to take a call now?"
Meanwhile, daddy dearest has stayed away from this latest piece of news. Guess he's too busy planning his big fat wedding!
PICTURE COURTESY: HELLO! MAGAZINE