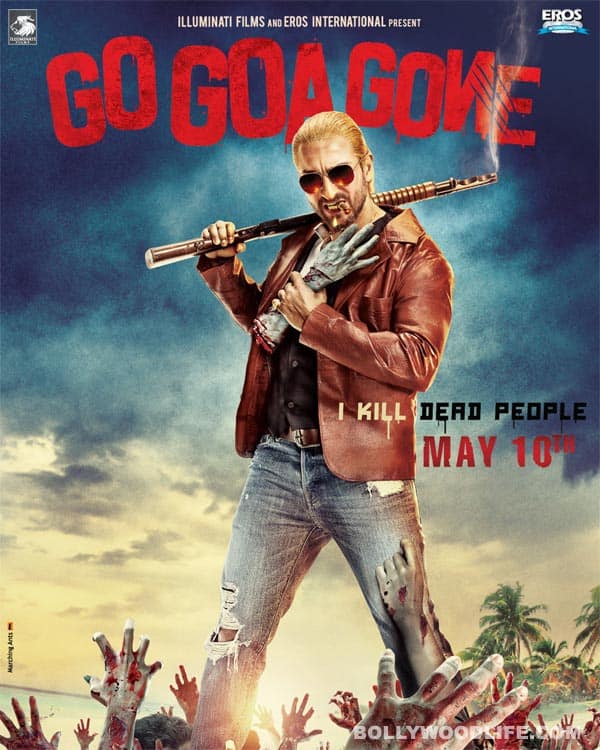 skip advertisement
The blood dripping, flesh exposing posters of Illuminati Films' upcoming movie are out. What do you think about it?
Like to look at a lady's back? Here, we have a back that showcases dripping blood, pieces of bones and burnt, rotten flesh. That's not all. Peeping out from this…errr…graphic back are the stars – Saif Ali Khan, Kunal Khemu, Vir Das and Anand Tiwary – of Illuminati Films' upcoming movie Go Goa Gone. Ugh, gross! 8 out of 10 on the gross meter.
But that's not the only poster. There's another one that features zombie hunter Saif Ali Khan with a gun and a…severed hand. This one wasn't as impactful because we're used to watching limbs crawl out of Ramsay movies. Right? On the gross meter we give it…ummm… 4 out of 10.
Now while blood and gore are important components of a zombie flick, there's one more element that made us squirm. And that's Saif's blonde hair. Seriously Saifu, why did you think that will make you pass off as a Russian? Yes, we giggled at that, and looked away so that we don't have to endure seeing your golden tresses.
Anyway, the sole purpose of a zombie movie is to gross its audience out. And Go Goa Gone has done a decent job (yeah, your blonde hair also takes a part of the credit, Saif). Now, we only pray that the acting, songs and the story do not evoke such reactions out of us. Fingers crossed!
But while we do that, you tell us, readers: What's your take on the Go Goa Gone posters? Do they scare you or make you feel gross?