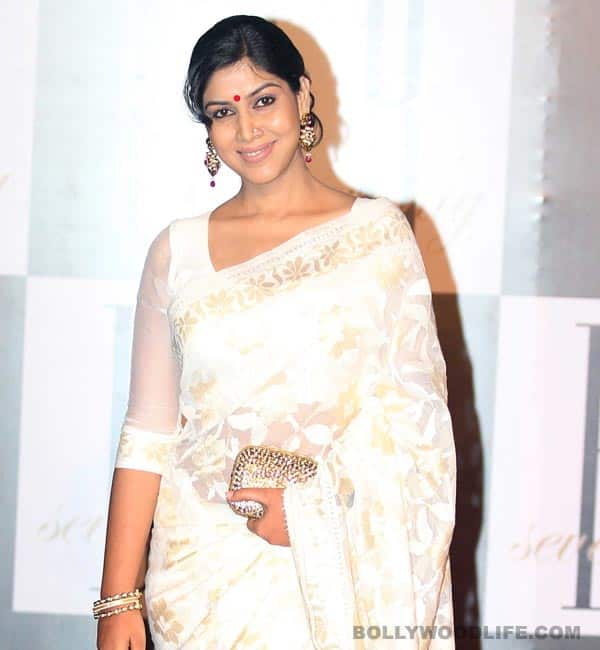 She is one of Ekta Kapoor's favourite bahus, who came to the limelight with the popular show Kahaani Ghar Ghar Kii. Today she basks in the glory of her daily soap, Bade Acche Lagte Hain, with the portly Ram Kapoor as co-star, and is gearing up for the release of her upcoming show Ek Thhi Naayka
Sakshi Tanwar talks about her beliefs in the paranormal, her marriage plans and her equation with Balaji and Ekta Kapoor…
You are playing the positive lead in Ek Thhi Naayka – didn't you want to play the daayan for a change?
Frankly, I would have loved to play the daayan if the opportunity was given to me. But I was offered the role of a naayka, which is very different from the things I regularly do. So I am happy.
Is your story in Ek Thhi Naayka in any way similar to Ek Thi Daayan – the movie?
There is no similarity between the two except the central theme of the story – daayans. The show will take several elements from the movie, but that's about it.
Your plate is already full with work, so why did you take up Ek Thhi Naayka?
It's true that we are constantly working. But when Ekta offered me this role, there was really nothing to think about. All I asked her to do was to adjust my days from Bade Acche Lagte Hain for this show.
When will your story be aired?
I haven't shot for my episode yet, but I am told it will be the last story.
What are your expectations of Ek Thhi Naayka?
I have been able to be part of several success stories with Balaji; I hope the trend continues with Ek Thhi Naayka. It is a unique and beautiful concept to bring together eight leading ladies of television and make a show with them. I have a feeling that it will work.
Do you believe in the supernatural?
I have heard several stories as a child. It is really hard to say whether any of these things are real or not, but I truly believe only in the power above me: God.
What do you think of the horror genre?
I cannot watch a horror movie to save myself! Not even with my eyes closed. Even during college times, when friends would gather to discuss eerie topics, I'd stop them.
Have you ever experienced anything paranormal?
There was this once when I felt the walls were closing in on me and everything around seemed to be spinning, but I am sure it was more to do with me feeling week and didn't really have any paranormal connection.
When you first signed on to do Kahaani Ghar Ghar Kii, did you ever imagine being an iconic television figure?
It was all by the grace of God. Initially, it was just a source of pocket money for me. My friends informed me about an audition and I went for it on a whim. The show ran for eight years and I couldn't ask for anything more. The success of Kahaani… was enough to last a lifetime. The popularity I am getting now from Bade Acche Lagte Hain seems like the bonus period of my life.
What's your equation with Ekta Kapoor and Balaji Telefilms like?
Balaji and Ekta are more like a family to me now. It is a strong bond, which is hard to crack. The level of understanding and professionalism we share is profound.
As an actor, what do you look for in a script?
As an actor I like to experiment with characters and TV is the best medium to do that 'coz of the reach it has nowadays. Frankly, I am ready to take up anything that is challenging enough.
What's your next move going to be after Bade Acche Lagte Hain?
I believe that as long as I am sincere, hardworking and have God's blessings, work will come. I am enjoying a very comfortable position right now. So I am not thinking about the future.
What about your marriage plans? Have you thought about that?
I believe I will get married when I am destined to. God has a plan and all I have to do is surrender to him. Things will happen.