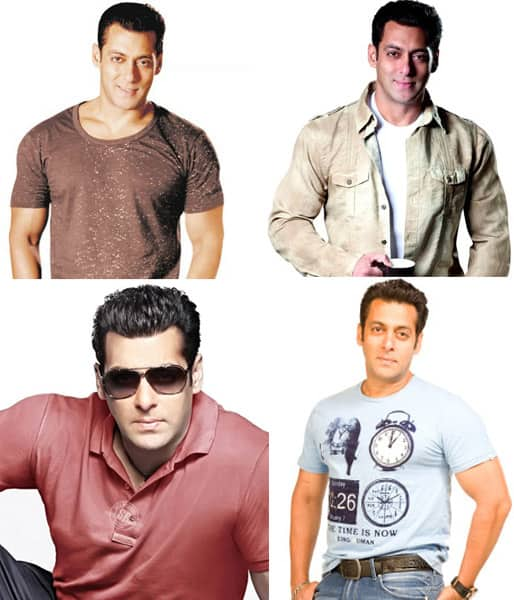 If Aamir Khan is Mr Perfectionist, Shahrukh Khan is the King and Saif Ali Khan is the Nawab, how would you describe B-town's most loved Khan? As Salman turns another year older, let us count the ways….
Salman Khan is best described as a bundle of contradictions. Ask us why. He is mysterious yet open, cool headed but short tempered, warm though intimidating and, of course, extremely good looking. It's not easy to decode the man or the phenomenon that he is. Those who are his fans swear by the dabangg Khan, no matter whether he is right or wrong – that is never a question that his loyal followers or ardent fans will agree on. So while Aamir Khan says that he needs a script and Shahrukh Khan wants to love his work, all it takes for Salman is brute star power in order to get the cash registers ringing.
Critics may have trashed his films, but neither Sallu nor his fans really care. He is the ultimate ruler of Bollywood's box office, after all – how else could you describe a man who has become the most searched celebrity in India despite having not a single release this year? You may love him, you may hate him, but you simply cannot ignore Salman Khan.
On his 48th birthday, here are five reasons why Salman Khan is special…
1. Dabangg attitude: It takes a lot of courage to make your debut on a much-talked-about talk show on national television and declare you are a virgin, even as a joke. What followed post Sallu's now famous debut on Koffee with Karan 4 was debate, discussion and analysis of what the actor said. And then there were the imitators – Ranveer Singh and Arjun Kapoor doing a 'Salman', all with great love and respect, of course. So if we were all smiles when he talked about his ex-girlfriends, Salman made our jaws drop with that one statement. Were we surprised with the Bodyguard hero's 'quotable quotes'? Koi shaq?
2. Salman style: Whether he wears bell-bottomed pants or his trademark monkey-wash jeans (both of which are passé, fashion pundits declare) he will look endearing. Only Salman can carry off those bejewelled belts, bizarre shoes and the long coloured hair. And yes, for Salman lovers, what is a film if his 'lucky' turquoise bracelet doesn't make a special appearance, hai na?
3. Rs 100 crore record: Deepika Padukone can celebrate this year, and wethinks she must thank Salman Khan, at least a little. After all, if Salman had had even one release this year, we're damn sure he would be the flavour of this season and the talk of tinseltown, just as he was last year, the year before and the previous year too. And for all those fans who were deprived of their favourite actor on 70mm, wait until January. Jai Ho!
4. Controversy' favourite child: His good looks may be a part of his superstardom, but it is his tryst with controversy time and again that makes him the ultimate poster boy. We are not sure whether Sallu makes a hero look like a normal man, or whether his off screen life earns him sympathy and empathy, but it does make the superstar seem vulnerable and very human. And if Salman dreads court hearings and police encounters, we are sure his fans are behind him all the way.
5. Being Human: His philanthropy is as well known as his filmography, whether he visits an injured stuntmen in hospital or buys a bus for an underprivileged children's school. Salman's every good deed makes news. His Being Human foundation has expanded to champion various causes including cancer, literacy and more. But what's unique about the star is that his generosity also extends through his filmi family. Launching newcomers, supporting their films, helping youngsters get into the right shape for a debut… the actor has played godfather for more aspiring actors that we can count and helped relaunch some fading careers – Govinda comes to mind here. Most recently, he chose to delay the promotions of his own film Jai Ho, allowing his friend Aamir Khan's Dhoom:3 to take precedence. We're sure Salman is a friend in need and that's what makes him a friend indeed!