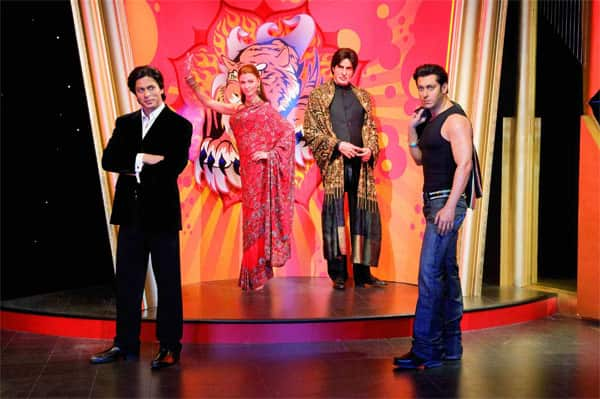 Bollywood stars have taken over the wax museum with Katrina Kaif being the latest one to join them…
Aishwarya Rai Bachchan, Salman Khan, Shah Rukh Khan and Amitabh Bachchan are some of the Bollywood celebs who have rocked the fans overseas. Their popularity is not limited by the geographic boundaries of our country and they have a massive fan following abroad which even made them worthy to feature in the prestigious wax museum of Madame Tussauds in London. Katrina Kaif is the latest entrant in the club. We want you to tell us who you think has the best wax figure at the museum so far…
Salman Khan: The Bhai of Bollywood stands tall at the wax museum in London with a jacket on his back wearing a frame-hugging vest. Would have loved for the statue to be shirtless, am I right?
Aishwarya Rai Bachchan: She is waving like a queen as the wax statue wearing a red embroidered saree and Indian jewellery. It isn't the most life-like interpretation at the museum but let's just just blame Ash's untainted beauty which cannot be copied, for that!
Amitabh Bachchan: He was the first Bollywood star to get his wax statue erected at the Madame Tussauds museum which explains why his wax statue doesn't look like him anymore. It was a proud moment for Bollywood!
Shah Rukh Khan: SRK's is perhaps the most life-like wax statues at the museum, standing in all it's suited glory. I would have loved for it to be in his signature arms open pose but. Nonetheless it is definitely one of my personal favourites!
Hrithik Roshan: They probably wanted to undo the error with Salman's wax figure and they remedied it with Jr Roshan's chiseled abs in the Mohenjo Daro actor's wax statue!
Kareena Kapoor Khan: Her Mauja Hi Mauja look is as the wax figure at Madame Tussauds in New York. Still love the real version more!
So readers tell us, whose wax figure do you find the best?