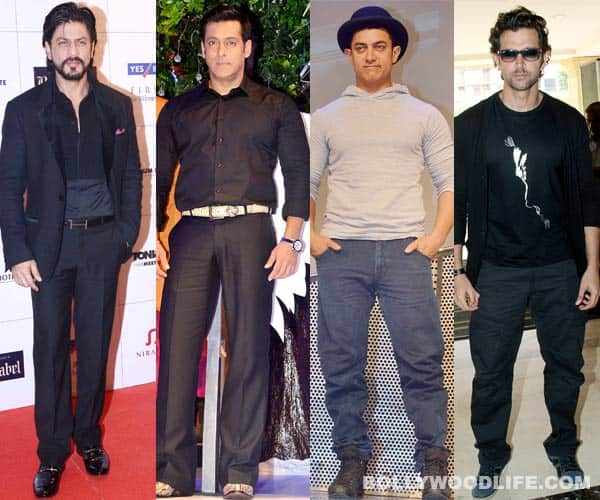 skip advertisement
A few days ago Adam Levine was given the title of Sexiest Man Alive by a popular magazine. So we thought we should find out who the sexiest man in B-town is – you tell us!
BollywoodLife conducts lots of polls, but the contestants have usually been female actors. Be it a sexy back or a sexy derriere, we've always had Priyanka Chopra pitted against Deepika Padukone and Katrina Kaif and so on. Now it's time for male actors like Shahrukh Khan, Salman Khan, Amitabh Bachchan, Aamir Khan and many others to step into the battlefield to wage war against each other.
This time, not for a movie's box office takings, but for the title of Sexiest Man in Bollywood. And you are going to tell us who the winner is.
The contestants: the men who made it to the final list are: Amitabh Bachchan, Shahrukh Khan, Salman Khan, Aamir Khan, Saif Ali Khan, Ranveer Singh, Ranbir Kapoor, Hrithik Roshan, John Abraham, Akshay Kumar, Shahid Kapoor and Arjun Rampal. And here's how they won over the other B-townies!
Amitabh Bachchan: Whether it's his French beard or his quirky style of shoes or even his intense brooding look, Amitabh Bachchan is still desirable at 71. Big B defies age in every way possible and makes us go weak in the knees with his deep baritone. Ah, just the thought is enough…
Shahrukh Khan: He may not have perfect 19-inch arms and six pack abs, but that never stopped him from becoming the Baadshah of Bollywood or the King Khan, did it? Though he was once known for his negative roles in films like Darr and Baazigar, he won hearts with his romantic stories in Dilwale Dulhaniya Le Jayenge, Kuch Kuch Hota Hain and Dil To Pagal Hain. His dimpled face is the perfect icon for every die-hard romantic, ain't it?
Salman Khan: Salman Khan has always loved flaunting his body. Taking his shirt off is like a lucky charm for his films. So is it his skin show that works for him? Wink, wink! Though he has started Being Human, everyone loves his Dabangg attitude, hai na? Do you think Sallu is the sexiest man in B-town?
Aamir Khan: This Dhoom:3 actor doesn't fit the criteria of tall, dark and handsome. But Aamir Khan is the thinking woman's sex symbol. It could be 'coz he's the least controversial Khan…
Saif Ali Khan: Saif's Bullett Raja will soon be hitting the theatres. Though his films may not work at the box office, being a Nawab has its perks, no? His sense of style is certainly the best in B-town. He never goes over the top or quirky but he – with wife Kareena Kapoor Khan – is always so funky!
Ranveer Singh: He is the latest entrant in this contest. In his first few films, the kinda roles he did weren't exactly desirable from the 'sexy' angle. But after seeing his hot bod in Ram-Leela, his fan following – especially the women – has increased tremendously. Though he might be a lil too unshaven, be it his face or underarms, no one can deny the oh-so-sexiness of that body!
Ranbir Kapoor: Hmmm… Ranbir is quite popular among young girls. He might not have the best body in B-town, but he sure has his way to charm women of all ages, doesn't he? How can anyone forget how he managed to woo B-town beauties like Sonam Kapoor, Deepika Padukone and Katrina Kaif? In Ranboo's case, his body isn't what girls find sexy, but his playboy image!
Hrithik Roshan: Light eyes, sexy body and perfect features, that's Hrithik Roshan for you. He leaves everyone enthralled with his Greek God looks. Right from his first film Kaho Na Pyaar Hain to his latest, Krrish 3, Hrithik is known to create a frenzy among his fans, the female ones in particular…
John Abraham: John has barely ever impressed people with his films, except for Madras Café. But this model turned actor can make imperfections look perfect, hai na? And one can ever forget his famous butt show in Dostana. Boy, that's one sexy derriere, ain't it?
Akshay Kumar: Akshay Kumar is the Indian James Bond. Also known as Khiladi Kumar, Akki has an oh-so-perfect body. Throughout his B-town career he has been one of the most fit actors. He still looks so young and fresh while romancing female co-stars who are half his age!
Shahid Kapoor: Shahid Kapoor is more known as the chocolate boy. His boy-next-door looks are kinda cute. But his rowdy look in his next film, R…Rajkumar could qualify him for the sexy list, hai na? What say, peeps?
Arjun Rampal: Be it romantic roles or negative ones, Arjun Rampal makes our heartbeats race faster. Last year he won the title of Most Desirable Man in a poll conducted by a popular newspaper. And he is certainly quite a hunk, ain't he?
So BollywoodLifers, who do you think is the sexiest man in Bollywood? Vote to tell us!