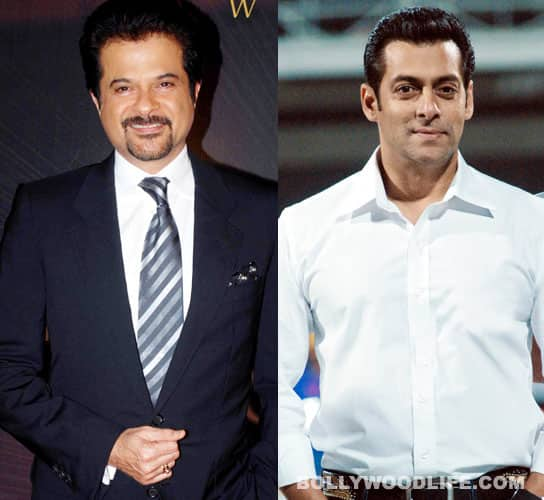 After Salman Khan's hilarious double role in the 1997 film Judwaa and Anil Kapoor's alienated twins in Kishen Kanhaiya way back in 1990, the two stars now gear up to play double roles in the sequel to No Entry
Director Anees Bazmee's 2005 film No Entry was a relentless laugh riot. The film was a major commercial hit and it had the cash registers clinking happily, with the producers and the stars laughing all the way to the bank and back. The film had Salman Khan, Fardeen Khan, Anil Kapoor, Lara Dutta and Bipasha Basu and was the best slapstick comedy of the year. Now we hear that the makers of No Entry are busy getting the script of the sequel ready. As of now, it is 60 percent done and the director will finalise the female lead in the days to come.
Titled No Entry Main Entry, the sequel will feature Salman Khan and Anil Kapoor yet again in the lead roles and, guess what! A Little birdie informs us that the veteran actors will be playing double roles in this much-anticipated comedy flick. Salman played a double role in David Dhawan's Judwaa 14 years ago, while Anil Kapoor did the double-thing in Kishen Kanhaiya 22 years ago. With so many multiple characters in the same film and more dishy B-town damsels thrown in, the plot of No Entry Main Entry promises enough confusion, comedy and fun to keep the audience hooked and entertained. We hope this film too, much like the first outing, No Entry, gets the same appreciation from viewers and has us rolling on the floor with its laugh-riot madness!