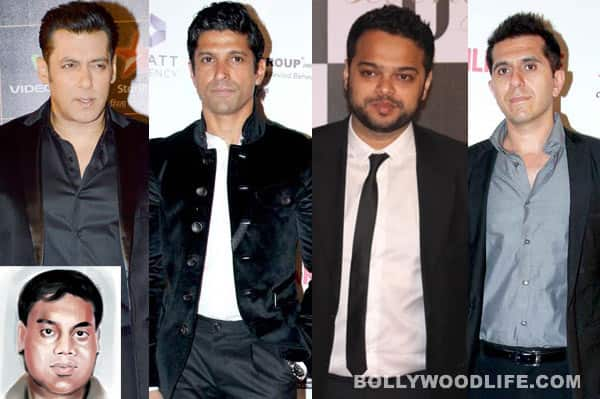 Apart from the actors, reportedly, producers Farhan Azmi and Ritesh Sidhwani have also been getting extortion calls from the underworld
Salman Khan and Farhan Akhtar are being threatened by the underworld don Ravi Pujari. Ravi is one of the top dons who has allegedly been hiding in Australia and has been operating from there. He has also been calling top notch producers Farhan Azmi and Ritesh Sidhwani for extortion. If you remember, Ravi had done the same with many other celebs in the past as well. Akshay Kumar, Boney Kapoor, Sohail Khan, Karan Johar and Vivek Oberoi had received threat calls from Ravi in the past and now these four seem to be his new targets.
Sohail Khan and Vivek Oberoi get threats from underworld
While the Jai Ho star has been receiving the threat calls since the ending months of last year, the other three have been getting the calls since January this year. After their individual reports, the Anti Terrorist Squad (ATS) and the Mumbai Police have started investigating the matter in full zest. Talking to a leading daily Crime Branch Chief Sadanand Date informed, "I have only recently taken over. I am not aware of this case. I will call Salman, Farhan Akhtar, Farhan Azmi, and Ritesh Siddhwani over to my office and look into their complaints."
Akshay Kumar threatened by the underworld!
Talking to the leading daily hotelier Farhan Azmi informed, "These calls never stop. Every time after I complain to the police, the phone stops ringing for a few days. But then it starts all over again. The person calls from an unidentified number, which has been traced to Iran, and identifies himself as Ravi Pujari." Farhan is also the husband of Bollywood leading lady, Ayesha Takia.
Boney Kapoor gets death threats from the underworld
Now we can only hope that Mumbai police's crime branch along with the ATS solve this case asap and nab the criminals. After all we would not want our favourite celebs to live under the fear of extortion every day. Hai na peeps?