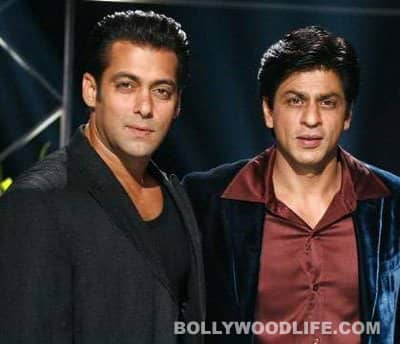 The two warring actors might be seen at the Pitbull concert together. Here's why
Salman Khan and Shahrukh Khan have not patched up since their fight at Katrina Kaif's birthday party a few years ago. But now the two might come together in December for a concert by rapper Armando Christian Perez aka Pitbull. The stars apparently have booked VVIP table for the three-city concert, but that is not because they are fans of the international singer or anything. The real story is that Shahrukh's son Aryan Khan and Salman's nephew Nirvaan Khan dig Pitbull and his music.So, when the news of Pitbull's arrival in India came in, both Aryan and Nirvaan not only wanted to be at his concerts, but also introduce SRK and Salman to their fave musician. Before this, Shahrukh, Salman and Aamir Khan were seen at the same do at the same time for the Umang police show. But virtually every big shot from the industry was there. So no big deal! But now it seems that what the WAGS (wives and girlfriends) couldn't do, could be achieved by these kids Aryan and Nirvaan, and Pitbull – bringing the Khans together! Let's hope SRK and Sallu shake a leg together and hug each other, like they had done to make up after their first fight. The Pitbull concerts are presented by P3P E Ventures Pvt Ltd, Big Dream Entertainment Inc, CrossBar Entertainment Pvt Ltd and supported by Bhaiyyuji Maharaj's Suryoday Aids Foundation. The concerts will be held on December 2 at Quantam, Noida; December 3 at JVPD Grounds, Mumbai and December 4 at Amanora Grounds, Pune.
ALSO READ:
Is Shahrukh Khan having an affair with Priyanka Chopra?