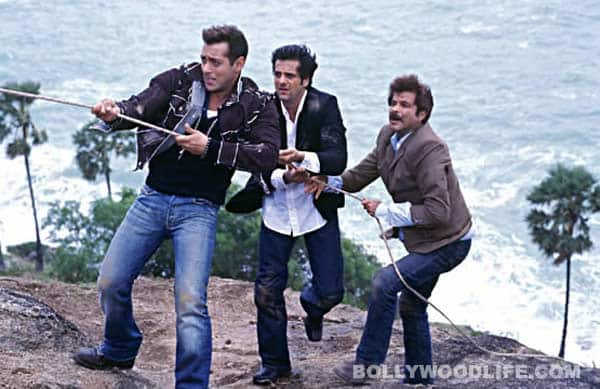 'Coz the longstanding follow-up to the comedy caper will have six male leads and nine women!
Our feathered friend flew straight from the famous filmi suburb of Mumbai to us, to give us the latest goss on the second edition of Boney Kapoor's No Entry. "Anees Bazmee has finished writing the script and Salman (Khan) has approved of it. They will start shooting in 2013," says our pet snoop.
And we found out that the three unfaithful husbands – played by Salman Khan, Anil Kapoor and Fardeen Khan in the first – return in the sequel. But they will have three more men for company. Guess who will play the other male characters! Sallu, Anil and Fardeen. Confused? The three lead heroes will play double roles in the new version of the 2005 blockbuster comedy. That means there will be two Salmans, two Anils and two Fardeens in the new No Entry. And they will have not three, not six, but nine women to romance on snow-clad mountains and white sand beaches!
Director Bazmee and the producers haven't yet finalised which leading ladies will play the sati savitri wives and sultry baharwalis in the comic plot. But we do know that the sequel of No Entry, reportedly titled No Entry Mein Entry, is going to be a helluva film to manage with an ensemble cast of that size, on and off screen. Let's hope Bazmee's ploy to make the plot funnier doesn't make him and the audience tear their collective hair out.
Whether that will happen we'll find out when the film releases. We are sure the fans of the original are waiting with bated breath for the sequel.