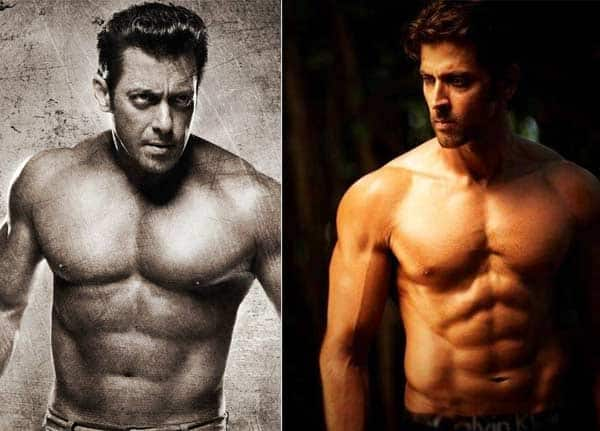 With the Lok Sabha Elections 2014 voting session in full swing, we decided to declare the results of one our classic polls. We asked our readers who they thought was Bollywood's fittest actor and the response was overwhelming with 30000 votes pouring in!
The results threw up some surprises with John Abraham and Farhan Akhtar missing in the top five positions. Salman Khan just edged Hrithik Roshan to be voted the winner with the others hardly in the competition. So here are the winners:
Postion 1: Salman Khan (Vote Percentage: 43.36%)
While Hrithik Roshan did run him close, Sallu Bhai is arguably the first actor who made bodybuilding cool in this industry, making him a torchbearer ala Arnold Schwarzenegger in Bollywood. Ask any desi bodybuilder in the country who their favourite inspiration is and it's likely they'll say Bhai. He has a hardcore regime that has inspired countless others like Arjun Kapoor, Hrithik Roshan (our runner-up) and Ranveer Singh to flaunt their physiques.
Position 2: Hrithik Roshan (Vote Percentage: 42.81%)
Okay Krissh 3, might not have been the greatest superhero movie ever made plot-wise but you've to admit that Hrithik Roshan did flaunt an admirable physique in the movie. The recently divorced actor ran Salman Khan really close and it was arguably only Bhai's loyal following that led to him losing out to Salman in the final count. Legend has it that he had gotten very unfit and depressed before the release of the movie but then he read a book on fitness transformations. He flew in the author, master trainer Kris Gethin to help him get back in shape who helped him sculpt the perfect physique for the movie in just 10 weeks. Since then, Hrithik has been promoting Kris Gethin's book The Bodybuilding.com Guide To Your Best Body and often talks about fitness to the masses.
Position 3: Vidyut Jamwal (Vote Percentage: 3.35%)
While Vidyut might not have the box office appeal of the other stars on this list, there's no denying that he's one of the fittest guys around. Unlike other actors who get fit with a regime based around the gym or regular cardio, Jamwal is a martial artist who owes his fit body to kalaripayattu, an ancient Indian martial arts technique that he had been practising since he was young. His training regime includes jiu jitsu, parkour and barely spends time in the gym. Instead he prefers natural physical activities like swimming, badminton and kick-boxing.
Position 4: Arjun Rampal (Vote Percentage:1.92%)
Despite being over 40, Arjun Rampal still has a physique that would make men half his age go green with envy. The actor sports an extremely ripped and lean look, which combined with his charming personality, still makes all the ladies go weak in the knees.
Positon 5: Shahid Kapoor (Vote Percentage: 1.74%)
The Jab We Met actor shed his chocolate boy image to get ripped for Kaminey which had a bizarre 'running with the horses' scene but boy was he sculpted in that movie. One interesting aspect about this Kapoor scion is that he is an ardent vegetarian who has proved time and again that you don't need to eat meat to get ripped!
Text courtesy: health.india.com
Also read: Hrithik Roshan beats Salman Khan to become the sexiest Dhoom villain!