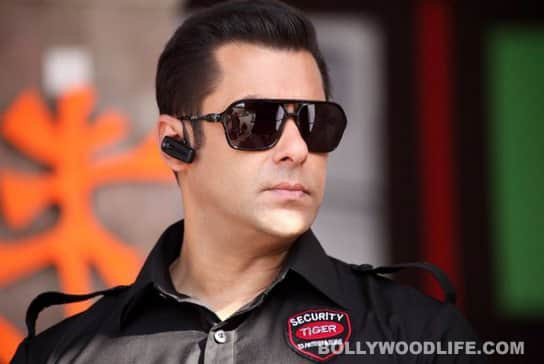 What makes Salman Khan such a force to reckon with? Asks Anupama Chopra, in a column written just before the release of Bodyguard
The week Bodyguard opens seems like a good time to ponder the paradox that is Salman Khan. This is his 83rd film in 23 years. And until Shah Rukh Khan's Ra.One or Don 2 or Aamir Khan's yet-untitled cop movie shifts the box office scales again, Salman is arguably Bollywood's No 1 star. His last two films, Dabangg and Ready, were both Rs 100 crore-plus grossers.
The intriguing thing is that he can't act. Or at least, he prefers not to. There have been occasional flashes of craft in films like Hum Dil De Chuke Sanam or Dabangg, but mostly, Salman seems content to play one persona: a charming, irreverent, but morally upright superman who invariably drops his shirt (in Ready, he does this, looks into the camera and asks, "Mazaa aya?").
In a recent interview, he said that he chooses to do films that he himself would buy a ticket for. Over the past few years, these have been loud, largely mindless action movies in which he crunches bodies while delivering signature whistle-worthy dialogues. When I asked in an interview why he repeated himself in every role, his response was: "Why? Do you have a problem with my personality?"
His films have become so successful that Salman is now his own genre or franchise. He's cinematic comfort food—you go into a theatre to watch him do the same thing over and over again. The story, the setting, the direction, the co-star, they are all irrelevant.
Intriguingly, Salman has been an A-list star for over two decades without the consistent support of big production houses or strong scripts. Shah Rukh Khan has been the poster boy for the Chopras (Yash and Aditya) and Karan Johar. Aamir Khan, with uncanny instinct, has picked the best stories. But Salman has pretty much winged it. He prefers to work with friends and family. His relationships dictate his projects. There is no strategy or long-term planning. His personal life is equally haphazard. He's had a slew of famous girlfriends, scandals, brushes with the police, the mafia and even stints in jail. And through it all, Salman stands tall.
What makes Salman Bollywood's Teflon man? Why does nothing ever stick? Why do viewers forgive him everything, including allegations of abuse and drunk driving and shoddy projects like Ready and Veer? My thesis is that Salman functions as Hindi cinema's last Rockstar Hero. Aamir and Shah Rukh are wonderfully charismatic actors, but only Salman feels subversive and deliciously dangerous. He's 100 per cent attitude. He's our fantasy of a life lived large and without regrets. With him, there are no half-measures. Every facet is epic. So, he's moody, but also so generous that he doesn't blink before giving away watches worth lakhs to friends; he's staggeringly eligible, and yet, unable to sustain a relationship—and therefore also lonely, so he often paints furiously into the dawn; he's unpredictable, and yet, reliable like a rock. Salman is all testosterone, but also all heart. He hasn't had a timid day in his life. He's fierce and determinedly unlayered. Above all, Salman has no sub-text. What you see is what you get—both onscreen and off.
Is Salman really all of this? I wouldn't know. Over 20-odd years, I've only interviewed him thrice. I've enjoyed a few (too few) of his films. While I am intrigued by the cult of Bhai, I am not a convert. But clearly, I'm a minority. Bollywood's number crunchers are predicting a Rs 60-crore opening five-day weekend for Bodyguard. This isn't an actor. It's an experience.
By Anupama Chopra for The OPEN Magazine
Courtesy: www.anupamachopra.com
The author tweets at @anupamachopra