Salman Khan bullies the Ishkq In Paris team
Deboshree Ghosh
Last Updated: 12.22 PM IST 09.18.2012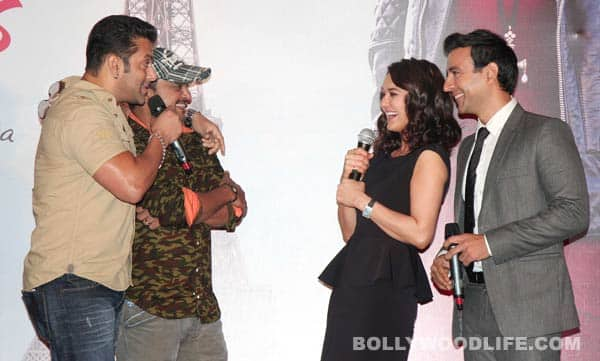 Yogen Shah
Sign up for the BL newsletter!
The beefy hunk takes a dig at IIP director Prem Soni, makes fun of Preity Zinta and pulls debutant actor Rhehan Malik's leg
Salman Khan surprised us big time at the music launch of Ishkq In Paris recently. He appeared at the event on time, he was seen joking around with the media and seemed to be in quite a good mood. But what really astonished us was that he made sure he embarrassed the Ishkq In Paris team with his indelicate humour. Sallu refused to recognize director Prem Raj Soni, but after a while he flashed his usual naughty smile and said, "Oh how could I forget, I did a happening film called Mr and Mrs Khanna with him."
His bullying session didn't exactly stop there. He went a step ahead and tormented Zinta with his mortifying remarks. While Zinta continued raving about how Sallu is the ultimate tiger and how he has given such a rocking performance in the film, Khan thanked her by pulling her leg mercilessly. And while Rhehan was telling the media how he learnt the basics of acting from Preity, Mr Khan interrupted in between and remarked, "Preity taught you how to act, surprising." Phew! He gave the ultimate finishing touches by commenting on Rhehan Malik's zombie-like expressions. Salman asked him if he practiced a certain set of expressions before walking into the press con.
The media encouraged Salman to carry on with his leg pulling session with a great round of applause and a riotous laughter. And why not, it's always great to see Sallu bring his cheerful self to the fore and that too in front of the media!
First Published: 12.04 PM IST 09.18.2012