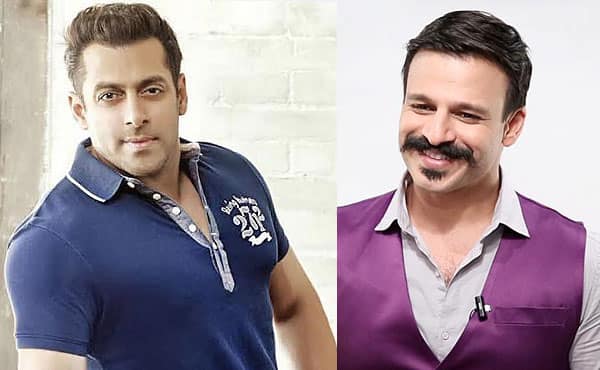 Everyone remembers that special magical night when Coldplay mesmerised us with their performance in Mumbai two weeks ago. Like the people who paid nearly 20K for tickets to see them perform, even Bollywood celebs who attended the event were bowled over by the group. Later that night, Shah Rukh Khan who had hosted a section of the concert had arranged for an after party for the Coldplay members at Mannat. Many celebs like Ranveer Singh, Shraddha Kapoor, Farhan Akhtar, Riteish Deshmukh, Imtiaz Ali, Dia Mirza, Zoya Akhtar, Kiran Rao, Yami Gautam, Pooja Hegde and others. Even the celebs who had not come for the concert had arrived for the party at SRK's place, like Salman Khan, Hrithik Roshan and Deepika Padukone.
Interestingly, Vivek Oberoi was also invited at the party and he was present there when Salman arrived. Salman Khan and Vivek Oberoi have a not so pleasant equation thanks to their public spat over their ex-girlfriend, Aishwarya Rai (now Bachchan). They never had a public face off for a long time, but now in SRK's house, they had no option but to bump into each other. We were curious as to what would have happened in this scenario when they pics of these stars came to us arriving at Shah Rukh Khan's house to party with Chris Martin and his band. But now we seem to have got hold of masaledar tidbits from that party, as to what happened there.
Apparently, these two did bump into each other, things got increasingly awkward for both the parties, as per a leading entertainment portal. Salman pointedly ignored his old nemesis of nearly a decade and didn't leave his gang of friends, while Vivek oBeroi just took an about turn whenever he saw Salman. Even after so many years, Salman is in no mood to forgive Vivek, even though the latter had asked for public forgiveness to Salman, when Vivek walked the ramp for a fashion event, and Salman was a guest there. A source at the party spoke to the portal saying,  "Vivek conveniently avoided Salman because he didn't want another showdown at the party. He took to one corner and every time Salman passed by, he would walk in the opposite direction. He was extremely uncomfortable throughout…. Salman didn't even bother stealing a glance at Vivek. It's Vivek whose body language was shaken."
Well, what can we say? Bollywood parties are as interesting as their movies. Come on Bhai-log, why keep an enmity for such a long time over a lost cause?