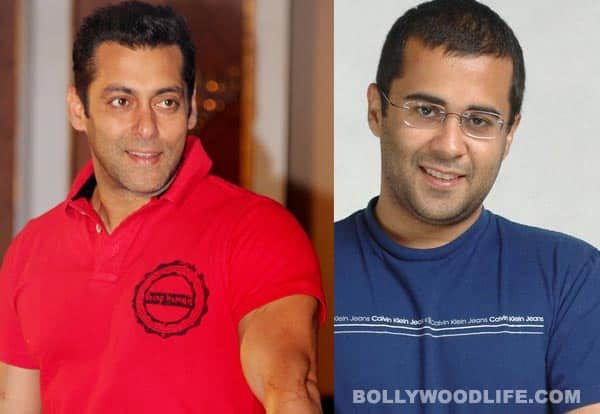 Cineswami takes a dig at author Chetan Bhagat being roped in as screenwriter for Salman Khan's movie Kick
For those of you, who can read and accuse Bollywoodlife of being anti-Shahrukh Khan, read on; Salman Khan fans look away now, or, if you are masochists (look it up), read on. Illiterate India's favourite illiterate author has made a series of announcements today. The October personage that is the Chetan the Bhagat quoth:
"Happy to share with you that I'll be writing the screenplay of Kick starring Salman Khan and directed by Sajid Nadiadwala"
"Kick is a about a guy who lives life only for his kicks, a powerful concept and a perfect recipe for a Salman-Nadiadwala blockbuster."
"Have known both Salman and Sajid Nadiadwala for a while and been wanting to work with them.Couldn't have asked for a better screenplay debut."
"Will be adapting Kick from original Telugu superhit, with fair amount of changes as well. Huge expectations, need all ur support! Thanks!"
So far, so informative. We find out that the creature that churns out pabulum for the great unwashed that have a scant few words of English to rub together is finally going to write its first screenplay. This is, of course, by no means Bhagat's first brush with the silver screen. Rajkumar Hirani and Abhijat Joshi took a kernel of one of Bhagat's ideas (yes, occasionally invertebrates too have ideas), paid him for it, threw him out and crafted the genius that is the all-time blockbuster 3 Idiots. Less successful was Atul Agnihotri's vomit-fest Hello, based on Bhagat's One Night @ the Call Center where Salman had a sleep walk on part. Kai Po Che based on the mistakes of Bhagat's life or some such is yet to be released and 2 States is thankfully yet to be made.
So, net net, an illiterate 'writer' is going to adapt a Telugu blockbuster (itself manufactured for the masses) for a star known for illiterate films that pander to an even more illiterate audience and the cherry on the cake is producer Sajid Nadiadwala who served up headache factories like Kambakkht Ishq and the Housefull movies is now going to turn director with Kick. Excellent. Can't ask for more really.
But Bhagat, alas, doesn't know when to stop. If he had just made his announcements and left it at that, we would have let him be – just like we give the common housefly the gift of life by not swatting it. However, he comes up with this gem:
"Many writers upgrade, get agents in London. I want to reach masses. The day I reach Indian farmers I'll consider myself a true Indian writer."
This statement of Bhagat's is wrong on so many counts it's not funny. By saying that getting an agent in London is an 'upgrade', Bhagat is straightaway denigrating India and Indians. And therefore his following statements are rendered null and void. Want to reach the masses – go to them. Don't just tweet about it. Want to reach farmers – visit a paddy field, see how they live. And you'll find out that the only use they have for your 'writing' is the fertiliser that can be obtained from pulp and paper waste.