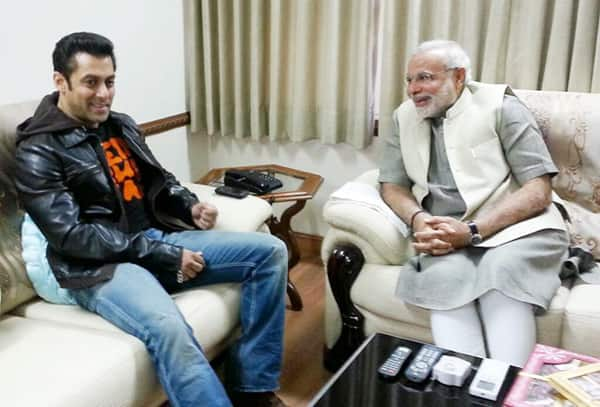 All the rumours have been put to rest as the Jai Ho actor has left with his father to be a part of NaMo's swearing-in ceremony
It would be history in making when Narendra Modi takes his oath as India's 15th Prime Minister at Rashtrapati Bhavan today. And there were reports stating that Salman Khan has been invited to attend Modi's swearing-in ceremony, however it was not confirmed, if he will be present at the function. However, a little birdie has now informed to us that the Dabangg Khan will very much be at the event. His father and veteran writer Salim Khan will also be accompanying him.
Honestly, we always knew that the Wanted actor will be there at this historical event considering the close rapport he shares with NaMo. Remember how on the eve of Makar Sankranti, Salman made a visit to Gujarat and bonded with Modi during the promotions of his film, Jai Ho? The two shared lunch and even participated in kite flying session.
Well, with Salman Khan and Salim Khan attending Narendra Modi's swearing-in ceremony, we are quite looking forward to it. Not that we weren't before!