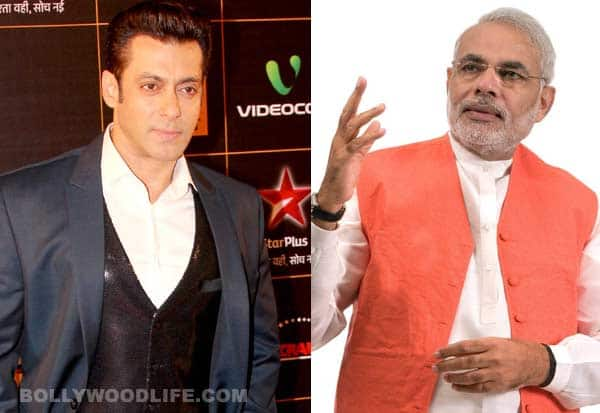 Looks like Sallu miyaan wants to cement his association with the new Prime Minister of India
During the promotions of Jai Ho, Salman Khan had met Narendra Modi and their meeting instantly grabbed headlines. Back then the Bhai of Bollywood didn't hesitate to voice opinion and had said, "You vote for Modisaab. I am from Mumbai, I live in Bandra. I will vote for Baba Siddique and Priya Dutt." Considering his closeness to Sanjay Dutt and his sister, we weren't surprised hearing this statement. Sadly, Priya Dutt didn't win the election from the Mumbai North-Central constituency and this came a shock to Salman. We hear the Kick actor just coulnd't believe this piece of information. However, what's interesting is that he sent a message to Mr Modi to congratulate him on his on emphatic win. Awww that's sweet na? Guess Dabangg Khan was just trying to make up for his I-will-vote-Priya Dutt statement which took many by surprise.
Well, whatever the reason, wethinks SK's move was a wise one. After all, politics and Bollywood do go hand-in-hand in some way or the other. Right Bollywoodlifers?