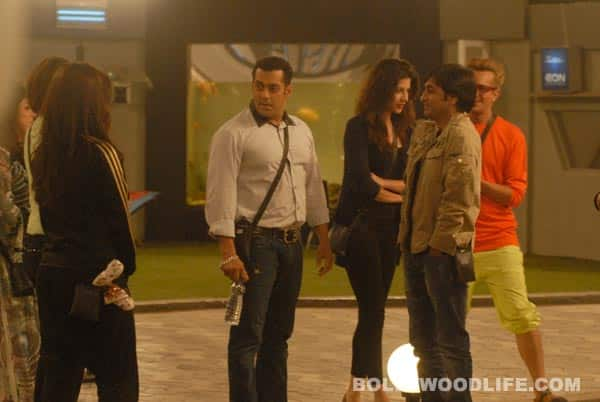 The superstar walks in the house on the sly and surprises the housemates, especially Imam Siddique, Ashka Goradia, Sana Khan, Karishma Kotak and Urvashi Dholakia
For the entire season of Bigg Boss 6, the housemates get to meet Salman Khan only twice – first, on their way into the house and second, after being eliminated. At all other times, it's only via the TV screens. But this time the superstar walked in quietly as soon as Bigg Boss asked all the housemates to pause in their tracks. However, Sana Khan and Aashka Goradia, couldn't contain their excitement and ran and hugged the superstar!
While Salman later mingled with all the inmates, he also told them to ask him whatever they wanted to. There were also a whole lot of jokes between Salman and Rajev Paul, who was later asked by bhai to tone down his flirting!
Later on the show, Salman went on and danced with all the housemates on Fevicol se. Rather, he introduced them to the song since most of them had been in the house and not heard the raging number. It also seemed like Sapna Bhavnani had mended her bridge with the superstar, as she too was seen shaking a leg.
After dinner and some tasty pizzas, Salman gave a special Christmas present to all the housemates. He made them hear recorded messages from their family members. And by the time Urvashi Dholakia, Aashka Goradia, Sana Khan, Imam Siddique and Karishma Kotak were done listening to their family speak, the room was misty eyed from all the crying!
But Salman lightened the mood, as he hugged everyone and continued cracking jokes on Rajev till the very end. All in all, it was one eventful entry that the housemates will remember for some time to come!