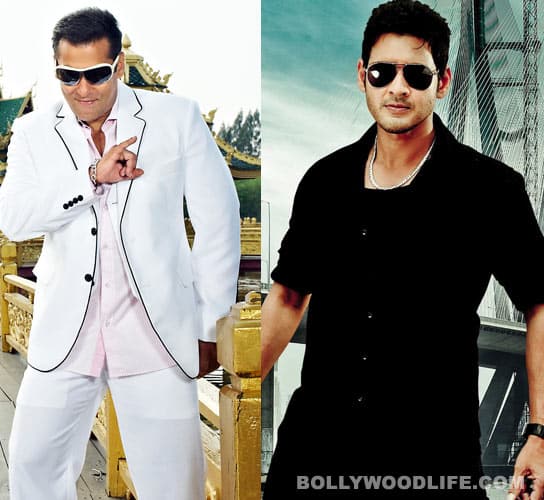 The Bodyguard superstar's close mates are working on getting the remake rights of a Mahesh Babu's Telugu film that has been breaking records all over
South Indian superstar Mahesh Babu's Telugu film Dookudu has raked in Rs 30 crore in its first week. Understandably, the Salman Khan campwallahs have already begun thinking of remaking it for the Bollywood audience. According to a report in a daily, director Srenu who made the Tamil version of Ready is keen to remake Dookudu in Hindi with Salman. That's not all. Even the leading man of Dookudu, Mahesh Babu feels that only Salman can do justice to the remake. It comes as no surprise since the superstar has been unofficially rechristened as the star of remakes. Salman in his interviews has confessed that the south Indian film industry makes better tales of heroism than Bollywood. So there is a mutual admiration society running between the star and his southern counterparts. However there is a slight glitch in the remake plans. The protagonist in Dookudu is a cop and Salman isn't in a mood to portray a cop again, as it would be similar to Dabangg 2. But if the sequel to Dabangg is delayed there are chances of Salman doing Dookudu in Hindi. But all this depends on Sallu bhai's approval of Dookudu after he has watched it. If all goes well, the Hindi remake would have a whopping budget of Rs 60 crore as against the Rs 35 crore of the Telugu version.
'Dookudu' Movie Review: Mahesh Babu retains his style quotient!