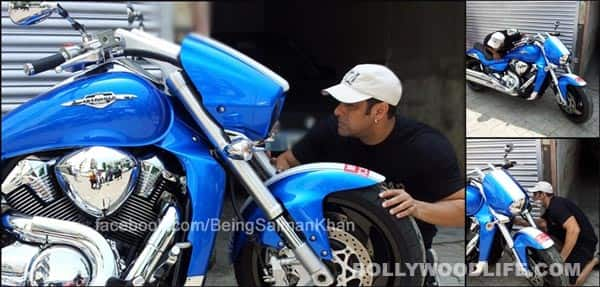 Not a hottie that struts on two sexy limbs, but the one that goes vroom vroom on two hot wheels!
All those fans who miss the presence of a sexy lady (a girlfriend or wife) in Salman Khan's life should know that the man has many passions, apart from family, friends and films, that keep his life hunky-dory.
We all know that the Dabangg dude has undying love for anything that moves on a pair of two fancy wheels, be it a bicycle or a motorbike. Remember how he often commutes to work on his bicycle and creates quite a furore on Mumbai's streets?
So it turns out that the Tiger, who also owns a red Hayabusa bike, on his official Facebook page shared a photograph of the beauty that seems to be taking a lot of his love, care and attention. It's a blue Suzuki Intruder motorbike! Do notice Sallu miyaan's intensity as we see him checking out the curves of his hottie in the picture. Is this the handsome hunk's newest possession? Sadly, we don't know.
But we do know that this wheeled-beast comes at a staggering price of Rs 14 lakhs. Not too much for the man who paid the highest tax from B-town this year, na? Also it's money well spent, 'coz unlike his ex-lady loves, this one un-speakingly deals with the highs and lows of Sallu's unpredictable moods!
By the way, we wonder what Bollywood's biker brigade – John Abraham, Akshay Kumar, Sanjay Dutt, Shahid Kapoor and Uday Chopra – has to say about Sallu's new beauty!