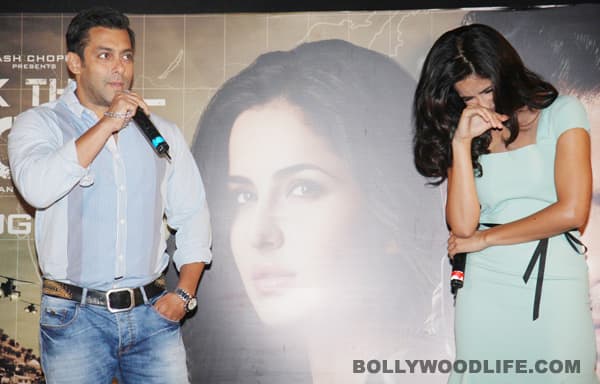 While the Blockbuster Khan was naughty as always, cracking jokes about his leading lady, he also highly praised her at the Ek Tha Tiger event
A while ago, hot goss doing the rounds was that the angry 40-year old Salman Khan and his gorgeous ex-girlfriend Katrina Kaif had a big showdown during the patch-work shooting for their forthcoming film, Ek Tha Tiger. Apparently he was fuming like a fire dragon 'coz she was wearing teeny-weeny dresses.
However, curious cats present at the unveiling of Ek Tha Tiger's Mashallah song cancel out the matter. Or maybe, wethinks, our stars are just fabulous actors off screen too, and don't want the personal tension seep into the professional space? Who knows!
Anyway, whatever the truth is, the couple put on their best smiles and said the nicest lines at the do. Sallu began with lighthearted potshots at Kat, but eventually his love – not the romantic one, the friendly kind – for his ex-gal was for all to see.
The blockbuster Khan said, "I have never met anyone in the industry who works as hard as Katrina does. That's why she's here. She keeps on working till she feels she has given her best. That's hard to find."
All this makes us wonder, is Salman still in love with Katrina? Sadly, we'll never know the truth.