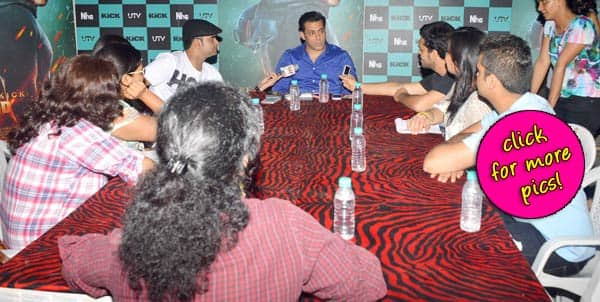 skip advertisement
Teaser-Salman-Khan-070714 (2)
The Jai Ho star was seen interacting with the media regarding his upcoming film Kick
Salman Khan surely put the paparazzi in a frenzy after his hugging stint with Shah Rukh Khan at Congress minister's Baba Siddiqui's Iftaar party.
The two Khans were spotted embracing each other warmly, a pleasant sight for our sore eyes indeed.
But looks like this Bhaijaan had other deeds to complete rather than sitting and basking in the glory of his iconic moment with SRK. Right after the hug, Salman Khan was spotted having a round table conference with the media where he was seen talking about his upcoming film Kick.
Though popular for his warmth and carefree style, Salman Khan is a toughie when it comes to business! This lad certainly seems to be taking his upcoming film rather seriously and we are certain our Sallu miyaan will set a ground breaking record this time as well.