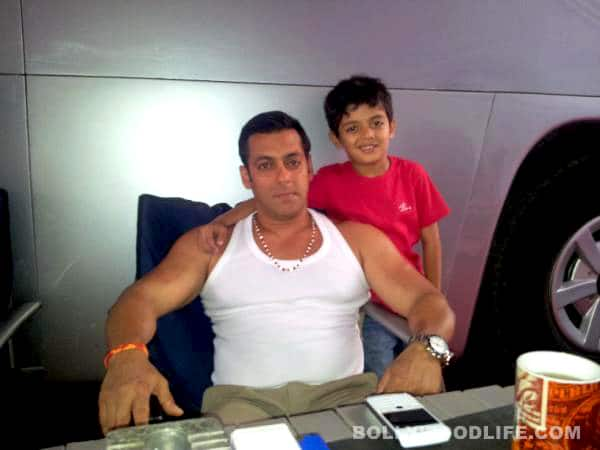 A young actor has been making a habit of calling the hunky hero 'Daddy'. Yeh kya ho raha hai? Relax, it's only onscreen! Meet son of Salman, Faizan Farhan….
When child actors are cast in the image of the adult star they are playing, they have to look at least slightly similar. Often filmmakers have cast the actor's real life children – if you remember, Karan Johar cast Shahrukh's son Aryan as a very young Shahrukh in Kabhie Khushi Kabhie Gham. And we all went awwww!
But what if your lead actor is known to be a six-pack toting, beefy, bachelor-for-life sort of a personality like Salman Khan? Well, there is a a little lad who has been calling him 'Daddy' for a while now, a certain cute little child actor named Faizan Farhan who has been playing Salman's son in a few films already. In the 2011 movie Bodyguard, Farhan played the character of Sartaj L Singh, son of Salman aka Lovely B Singh. And the little tyke is also reportedly playing Salman and Sonakshi's son in Dabangg 2.
And we're not surprised. The photos we have of the two men – one young, one rather older – reveal that Faizan bears an uncanny resemblance to Salman, both being delightfully dopey-eyed. And from the pictures it seems that the onscreen father and son share quite a cool camaraderie – Farhan is seen posing for the camera with his hand over his onscreen Dad's shoulder. Cute, no? Well we're quite happy to see bhaijan acting on his paternal instincts. If only he had a bhabijaan to stand by his side….
Now do we expect to see Farhan in the next season of Big Boss too, since most of Salman's friends reportedly find a place in the house every season? (Read: Mahek Chahal, Niketan Madhok, Kashif Qureshi etc.) Wink wink!