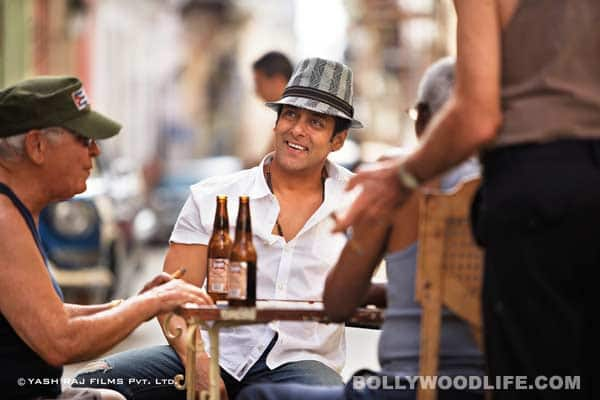 We know for sure that Salman Khan was in Istanbul, Dublin and Cuba with Katrina Kaif. Why then does bhai think that he's gone missing?
Watch Salman Khan and Katrina Kaif's amazing camaraderie in the duo's forthcoming release Ek Tha Tiger and you will know why bhai and Kat make the cutest couple in Bollywood. In the film's song Laapata, Sallu looks at his colourful best and Kat exudes her incredible charm that she's known for. We just could not take our eyes off Katrina in this number and Sallu meeyaan had gone absolutely laapata as he completely immersed himself in his lovey-dovey character.
Just for fun we tried to translate this peppy number into English only to find that Salman had gone missing!
 Aankhon ko yun band karke
Dheeme dheeme gin gin ke
Dhundo humein, hum hain kahaan?
Ho bhoole se fasaane hain
Zameen se begaane hain
Dekho huey hum to hawaa
Eyes like this we shut
Slow-slow we count count
Find us, where are we?
From the ground we are unknown
See we have become wind
Dil ke kinare, khwaabon ke neeche
Hai khoya khoya apna jahaan
Main laapata aa aa… tu laapata…
Hosh o hawaas hai laapata
Heart's banks, below dreams
Has been lost our world
I have gone missing…you have gone missing
Sense and consciousness have gone missing!