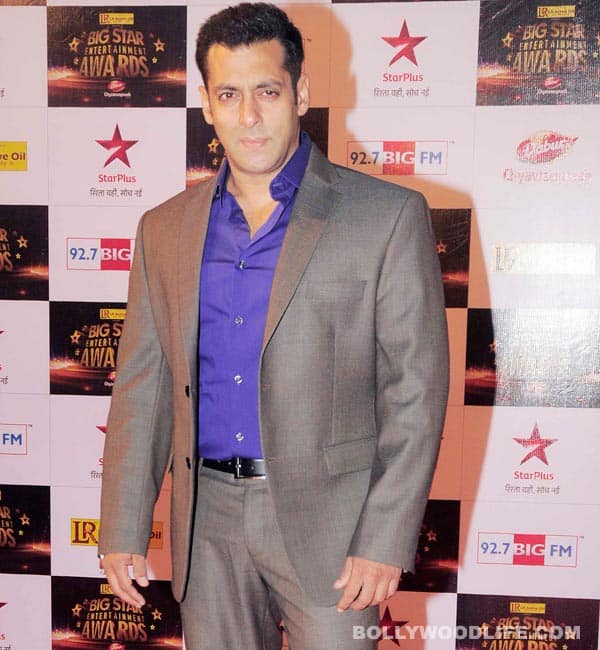 Salman Khan is all ready for his next big release Dabangg 2. In an exclusive interview with London-based journalist Ashanti Omkar, he talks about the Rs 100 crore club, working with new directors and his equation with them, and his future plans
Salman Khan candidly talks about his co-star of Dabangg 2 Sonakshi Sinha, his father Salim Khan, his brother Arbaaz Khan and what's in store for the Robinhood Pandey franchise…
You are now the Czar among the stars whose films have crossed the coveted Rs 100 crore mark, with films like Ready, Bodyguard, Dabangg and Ek Tha Tiger. How do you feel now that Dabangg 2 is all set to join the club?
My filmi funda is very simple. Every film will not necessarily cross the Rs 100-crore mark just because I am in it. If a movie is bad, it will definitely not cross the Rs 100 crore-plus mark. It is not easy, but it is achievable now, if a film is good. It was difficult to believe that a movie can gross Rs 100 crore plus two years back, but now it is quite possible.
What is your take on success?
I have my own pulse. I will succeed only if I believe that my own pulse is that of the audiences. As Salman Khan, I have become a megalomaniac. If I can deliver as Chulbul Pandey, it is fine, but it is bad if I do my role as Salman Khan.
After having acted with established directors like Subhash Ghai and David Dhawan, how easy was it for you to work with a new director like Arbaaz Khan?
In my career, with the exception of Subhashji and David Dhawan, I have worked most of the times with only new directors, whether it was Karan Johar in Kuch Kuch Hota Hai, Sanjay Leela Bhansali in Khamoshi, Siddique in Bodyguard, Abhinav Kashyap in Dabangg, Kabir Khan in Ek Tha Tiger, Prabhu Deva in Wanted or Anees Bazmee in Ready.
How was your brother Arbaaz as a director in Dabangg 2?
Arbaaz is an industry boy from a film family. There was a time when he used to assist on the sets. He is a sensible boy and knows the ropes of direction very well and is a fantastic storyteller. What I like best about Arbaaz is that we have a comfortable zone and he set out to make the film with his own hard-earned money and not someone else's. If he did not like the way a particular scene was shot for Dabangg 2, he would insist on reshooting it.
How tough is it to come up with a sequel?
It is very difficult to make a sequel. Even in the West, it is only Sylvester Stallone's sequels to Rocky and Rambo that have done well at the box office. When you set out to make a sequel, you tend to get carried away. If it looks like we deliberately set out to make a comedy, it cannot be similar.
What is the message that will be driven home through Dabangg 2?
The message is that very few married couples continue to romance even after marriage. The story is set in Kanpur now, where Chulbul and his wife migrate to. In every which way, Dabangg 2 is a real sequel and we are not just cashing in on the brand value that Dabangg generated.
How is Sonakshi Sinha in the sequel?
There has been absolutely no difference whatsoever in Sonakshi. She is a very talented girl. The film was on the floors within a year of Dabangg's release. What I liked about her is that though she was game to put on a little weight for the sequel, because she plays a pregnant wife in it, she has managed to knock off her weight now.
Is there a film in the offing for which your father Salim Khan will write the subject?
People ask me why my father is not writing for any film when any director would gladly give his right arm to have a script written by the man who has written legendary films like Deewar and Sholay. I am glad that my father is enjoying his retired phase because, frankly, I do not think that he has the patience to deal with directors and the kind of sensibilities that they come with today.
How would you describe your character Chulbul Pandey?
Chulbul, as a character, can do anything and get away with blue murder. In this genre, you can do anything as an actor. Even in Ready, I was Prem but then a little bit haraami too. My character takes off in Dabangg 2 from where Dabangg ended.
You seem to like action a lot!
To keep myself fit, I want to do action. I would love to do a film if action comes in it with a baggage of emotion. Whether it is an action film or an emotional one, the introductory fight has to be interesting enough to hold you as a viewer. The older you grow, the better you grow as an actor. If action is over, romance is over. I am glad that kids today call me Salman or Salman Khan and not Salman Uncle. The younger lot of actors today is superb because they come prepared to the sets.
Are you planning to do an out and out action film?
Action alone will be very boring. I'd not like to watch a film if it is not larger than life. It will be difficult to do an out and out action film like Jackie Chan does, in film after film.
People insist that you interfere with your directors. Is that true?
After Veer, in the interest of my films, I decided that the final cut of my films will be passed only with my approval. I feel that what Aamir Khan does is correct. I only hope that I do not take advantage of my stardom when I put my foot down.
What next, after Dabangg 2?
I will start work on Sohail (Khan)'s next, then Sajid Nadiadwala's Kick and last but not least, Sooraj Barjatya's next film.