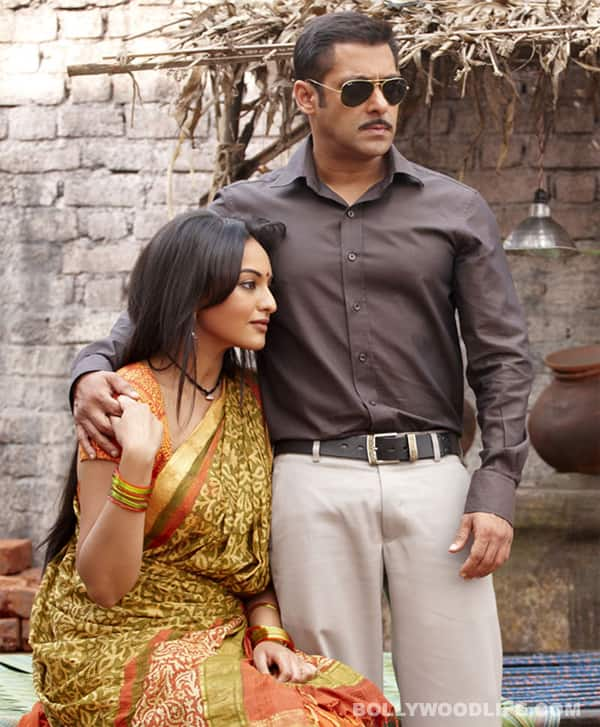 The superstar is a tough man to please, but he is giving brownie points to his Dabangg co-star at the drop of a hat!
Remember the first time Salman Khan had spotted Sonakshi Sinha, he instantly decided she was the perfect choice as his lady love in brother Arbaaz Khan's production Dabangg? Now, our birdie tells us that the superstar is going gaga over Shatrughan Sinha's darling daughter once again. For those who don't know, the two actors are currently shooting in the humungous Kamalistan studios in Mumbai for the sequel of the Robinhood-inspired action drama, Dabangg 2. During the shoot, the first thing that Salman noticed about Sonakshi is that she hasn't let success affect her in a negative way. He believes she is yet humble in her behaviour, unlike a lot of newcomers who hit the jackpot with their first film. Just one question to the superstar though, isn't it too early for her to start behaving snooty? She's just had one release and the success of that film was mostly coz of Salman. Anyway, the superstar thinks Sonakshi's humility has a lot to do with her background. In an interview, he said, "Probably coming from a filmi background and having seen her parents living the Bollywood lifestyle, she knows how to remain grounded."
That's not all though, the Bodyguard actor who often encourages and supports aspiring actors in Bollywood, thinks the Sinha gal's acting skills have greatly improved since her first film. But it's the last few words of glory that shocks and amuses us the most. Salman said that if he had to choose one female co-star as a travel companion, it would have to be Sonakshi. Don't ask us why he said that! But sometimes, Salman just says a lot of things for the effect of it. However, we hope not everything he said about Ms Sinha are empty words of praise.
ALSO READ: Preity Zinta ropes in Salman Khan for 'Ishkq in Paris'