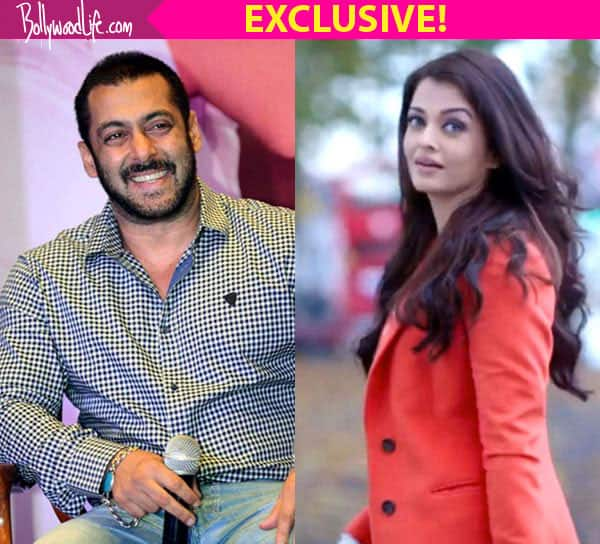 Now we can all see how Aishwarya Rai Bachchan is winning immense praises for her look in Ae Dil Hai Mushkil. In fact, moreover to her stunning makeover, it's her passionate chemistry with Ranbir Kapoor that's further leaving everyone in a state of happy daze. I mean, they look so damn good together that every next still or promo is turning out to be hotter than the previous one and we wouldn't be surprised if they yet again make our hearts skip a beat with the trailer that's releasing tomorrow. We're prepared…well prepared to lose ourselves in Ash and Ranbir's beautiful romance that's coming up. But look who else is mesmerised by Ash right now. Yea…it's her ex Salman Khan!
Although initially Salman Khan said he hadn't got the time to watch the Ae Dil Hai Mushkil teaser for he even spoke to a reporter at a recent event in Dubai saying, "I have not watched it, have you watched it? Tell me how was it!" But turns out he's finally watched it and we might as well add, he's so damn smitten by Aishwarya right now. No literally! Our source exclusively reveals to us how Salman just couldn't stop staring at Ash when he watched the first teaser trailer and had this instant reaction saying, "She's so beautiful". Yea! He said that! Can you believe it? Don't blame him though, Ash indeed looks so sickeningly gorgeous that one would be really blind if he/she doesn't find her beautiful!
Also read: 7 stills that prove Ae Dil Hai Mushkil should have been Aishwarya's comeback film and not Jazbaa!
However, we wonder what did Salman have in reaction to that, or say about Ranbir? Well, probably, he wouldn't want to comment on Ranbir considering the 'Kat' connection. But anyway, we're totally digging on Salman's loving reaction on Ash right now. I mean, don't you think it's been really long we haven't heard him talk about Aishwarya in public? Guess with past gone by, here's looking at a happy present with a brighter future. Amirite?
Also read: Aishwarya Rai Bachchan will promote Ae Dil Hai Mushkil CONDITIONS APPLIED – Read exclusive details!
Not to forget, Bachchans too are loving the vibe of Ae Dil Hai Mushkil. While many speculated if the family is upset with Ash considering she agreed to shoot such intimate scenes. Our source exclusively reveals to us how there's no truth to the above. Instead, the Bachchans are pretty chill about all of this as the source affirms, "You really think Aishwarya would not tell Abhishek and her family about her role in the film? It is ridiculous to even infer that Abhishek was not aware of these scenes or her character. She plays an older woman who's physically attracted to a younger guy, so of course there will be love making. She is playing a character and so is Ranbir. If tomorrow Abhishek shoots an intimate scene with an actress, would the same conversation hold? There is no issue between the Bachchans and Karan."
Also read: 31 stills of Ranbir and Aishwarya from Ae Dil Hai Mushkil song Bulleya that'll make you say HOT DAMN!
Other actors who have by far reacted to the buzz surrounding Ae Dil Hai Mushkil teaser include celebs right from Shah Rukh Khan, Aamir Khan, Alia Bhatt to Sidharth Malhotra, Ranveer Singh, Varun Dhawan among others. Tell us what do you think of Salman's reaction on Ash? Tell us in the comments below and do watch out this space for Ae Dil Hai Mushkil trailer that's releasing tomorrow…