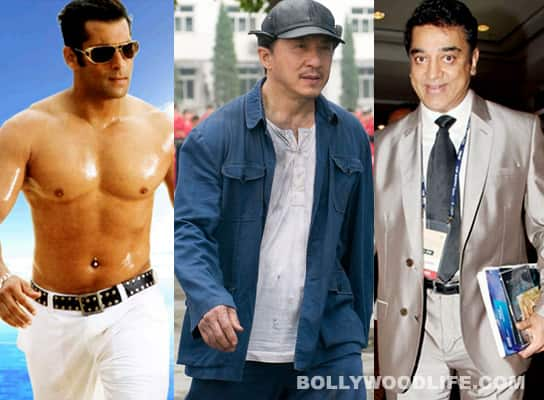 If it happens, it would be the dream cast to end all dream casts
Speculations are rife that Tamil film producer Aascar Ravichandran is looking to cast Salman Khan, Jackie Chan and Kamal Haasan in a Rs 400 crore mega film. If it ever gets off the ground, the film is likely to be a sequel to Chan's 1986 smash hit Long xiong hu di that you and I know as Armour of God. Chan directed that film. He, of course, is no stranger to India as he appeared alongside Mallika Sherawat in The Myth and he was due to play the role that Tom Wu eventually played in RA.One, but Shahrukh Khan couldn't afford his steep fee. If Chan ends up directing this film, he'll have to put up with two other filmmakers on his sets as Kamal Haasan is a director in his own right, as well as a notorious ghost director in the league of Aamir Khan, and Sallu is supposedly unofficially co-directing the Dabangg sequel. Interestingly, Aascar used to call himself Oscar and his company's logo was the renowned statuette. However, when Kamal-starrer Dasavathaaram released in a blaze of global publicity, the Academy of Motion Pictures Arts and Sciences took umbrage and he had to hastily change. No matter, he still laughed all the way to the bank, as he made the film for Rs 60 crore and collected nearly Rs 300 crore worldwide.
Meanwhile, the makers of Rowdy Rathore can kiss any Bengal business goodbye, as local superstar Prosenjit will be appearing in Bikram Singha: The Lion Is Back. Both films are remakes of Telugu blockbuster Vikramarkudu, starring Ravi Teja and Anushka Shetty. Bikram Singha will release during the IPL, before Rowdy Rathore hits cinemas in June. The film is Prosenjit's long awaited return to the action genre, something he'd promised his fans after doing a spate of alternate cinema. Incidentally, Bengali cinema appears to be awash in Singhas as last year we saw Jeet playing cop Dibakar Singha in Shatru, the remake of Singam. Prosenjit had earlier acted in a version of Devdas that released in Bengal before SRK's Devdas.
Remember Why this kolaveri di? So yesterday, right? Well, for those who care to remember, the song is part of a film called 3, directed by Rajinikanth's daughter Aishwarya and starring Kamal's daughter Shruti Haasan (alas, untouched by her parents' acting genes) and Aishwarya's husband Dhanush (a brilliant National Award-winning actor). The film is finally due a release on March 30 and Aishwarya is in Mumbai having completed the final mix of the film. She tweets: "Just came out after watching the final mixed version of 3. emotions running haywire..can't wait to share my emotional ride with u!" Let's hope that the audience doesn't run haywire. After all, the effective Kolaveri marketing campaign peaked too early and the film is releasing too late.