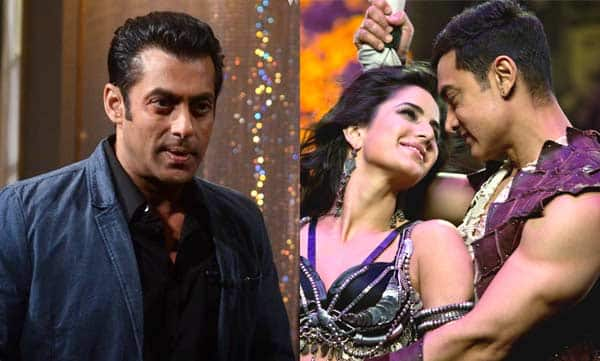 The Ghanta Awards, which recognise the worst of Bollywood were held on March 16
India's version of the Golden Raspberry Awards (Razzies), the Ghanta Awards, which recognise the worst in Bollywood were held recently. Salman Khan, Katrina Kaif, Aamir Khan were few of the lucky ones or should we say unlucky ones to win this award. While the Dabangg Khan received Kuoting Krap With Karan award for his senseless statements on Koffee With Karan, Aamir and Katrina on the other hand got the Worst Couple award for Dhoom:3. Wait, there is more. Priyanka Chopra was honoured with the Worst Actor (Female) award for her performance in Zanjeer, while Prateik Babbar got the Worst Actor (Male) award for Issaq.
Here is the complete list of winners at Ghanta Awards 2014:
Worst Film: Himmatwala
Worst Director: Sajid Khan for Himmatwala
Worst Actor (Female): Priyanka Chopra for Zanjeer
Worst Actor (Male): Prateik (Babbar) for Issaq
Worst Remake: Krrish 3
Worst Couple: Aamir Khan and Katrina Kaif for Dhoom:3
Worst Supporting Actor (Male): Imran Khan for Once Upon Ay Time In Mumbai Dobaara!
Worst Supporting Actor (Female): Ameesha Patel for Race 2 and Shortcut Romeo
Shit Nobody Saw: Sona Spa
Kuoting Krap With Karan: Salman Khan.
That's Anything But Sexy: Grand Masti
The award ceremony was attended by Riteish Deshmukh, Archana Puran Singh, Parmeet Sethi, Kunal Kapoor, Arshad Warsi, Maria Goretti and Mini Mathur among others.
Riteish even went up onstage to receive the award for Grand Masti under the category – Anything But Sexy. And that was really sporting of him, we have to admit. This is the second time that someone from B-town has actually stepped up to attend this event. Before this, Sonam Kapoor was the first one to walk up onstage and collect her Ghanta award, which she had won in the 'WTF Was That' category for Mausam in 2012.
It's good to see some B-town peeps appreciate a sense of humour, hai na?