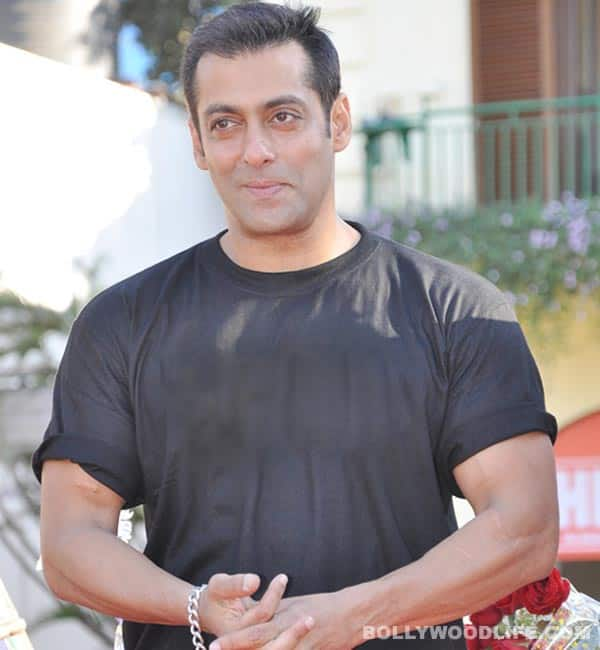 The Dabangg dude said that with his tongue firmly in cheek
Salman Khan is perhaps the busiest star in town these days, especially since the promotions of his Eid attraction, Ek Tha Tiger are on in full swing. He made us wait for almost four hours, but the hilariously entertaining chat that we had once he arrived, totally made the wait worth our while. Before the interview we had been warned that if we Mr Khan any personal questions, particularly about his marriage; he will walk out. So we refrained and boy, we were more than amused by his quirky sense of humour. Though he has been unwell for the past few days, Salman ensured that we went back home with huge goofy smiles on our respective faces.
Salman, we heard that you've been unwell these days…
It's just flu, but I am a tiger you see. I don't have the option to go out and get my food. I will be in trouble if I say 'shikaar'. (Smirks)
How did you agree to do Ek Tha Tiger?
It was Katrina (Kaif) who recommended my name to the director Kabir Khan. Then I auditioned for the role a few times. Though the producers were not fully convinced, they took me on board. Perhaps they were just being nice to me (suppresses the smile).
Jokes apart, why did you agree to do the film?
It was the script. I had met Kabir (Khan) a few years ago when he had narrated the script of Kabul Express. I told him that I wanted to do the role of the Taliban guy, but he didn't take me seriously. (Smirks) I was impressed by everything about ETT – the role of a spy, the leading lady, the production house… It just felt perfect.
Why did it take you so long to do a film with YRF?
I don't really brood about it as much. Somebody bought the rights of a film and thought that I should do the role; I liked the script and did it. I was just at the right place at the right time. Don't forget that I have also been at the wrong place at the wrong time. (Laughs)
Did you do ETT to prove the people who said that you only do remakes of South Indian films wrong?
While I signed the films that you are probably referring to, I didn't know that those were remakes. Which film of mine was a remake? Dabangg? Ready? I agree to do films only if I like the script. What do I know who made which film in what language? After the film releases, somebody tells me that it was a remake of some film. But then what can I do about it? (Smirks) Ek Tha Tiger is a realistic film, but not like those art movies. It has a larger than life protagonist that will even inspire real life spies.
Your last few films were huge blockbusters, are you under any pressure?
I am just lucky that the films worked. My only belief is that when I read a script I should go 'wow! what a script' and when the audience watches the film, they should go, 'wow what a film'. Other than that, I may think that I have made a great film, but if the audience hasn't liked it, it is a bad film. If they do like it, then it is a good film.
Do you believe in the new found myth of the Rs 100-crore film?
Absolutely not! Most of the numbers are fudged. If people buy the movie ticket in black, it doesn't do any good to the film industry. It is just that the population has grown, the economy is booming. Isn't it? What earlier perhaps used to be a Rs 10 crore film is a Rs 100 crore film these days. I must say that not much has changed, we all had a theatre that was close to our homes, that we used to frequent and we still do.
Today we have a multiplex as a movie watching option. Probably, if it is an English film, we might watch it at a multiplex. I hope if a Hindi film has released in a multiplex people don't think that it is dubbed in English. Do they? No, right? As far as I am concerned, if the audience likes the film, it is good. If they don't, it is bad. I move no to the next one. There is no pressure on me.
We heard that the ticket prices for Ek Tha Tiger have been hiked. Do you think it is fair?
As much as I think that it is not the right thing to do, I can't do anything about it. I know the difference is only about twenty or thirty odd rupees, and it will not make much of a difference. But given a choice, I would like to make the film more accessible to everyone.
Do you agree that Salman Khan films attract mainly the masses?
No, I completely disagree. A film is either good or bad. The only difference is that probably not everybody will be able to afford a multiplex ticket. But that's about all.
As an actor, do you prefer doing romantic or action films?
Give me a romantic film any day. Doing an action film takes a toll on you. Tell me who fights on concrete roads? Look at those who run the Olympics, they sprint a 100 metres, may be as actors we do 25 metres. But there is a rehearsal, and there are about ten takes. Doing Ek Tha Tiger gave me a very good cardio workout. I would like it if the fights were on mattresses and in better conditions, but that doesn't happen…
As much as you are loved for your action based films, you are also liked, especially by your female fans, as a romantic hero…
Very soon I am doing a film with Barjatyas, where I am playing the part of Prem once again.
After playing this larger than life character in Ek Tha Tiger, what is the way ahead?
I really don't know… If I do another similar character, people might say that he is invincible – he never dies. If I do one character like what I did in Tere Naam, they might say that Ek Tha Tiger was better. At this moment it is difficult to say what I am going to do with my next few films.
After being in the film industry for so many years, what keeps you going?
It is a job that I do and I love my job; it has become my passion.