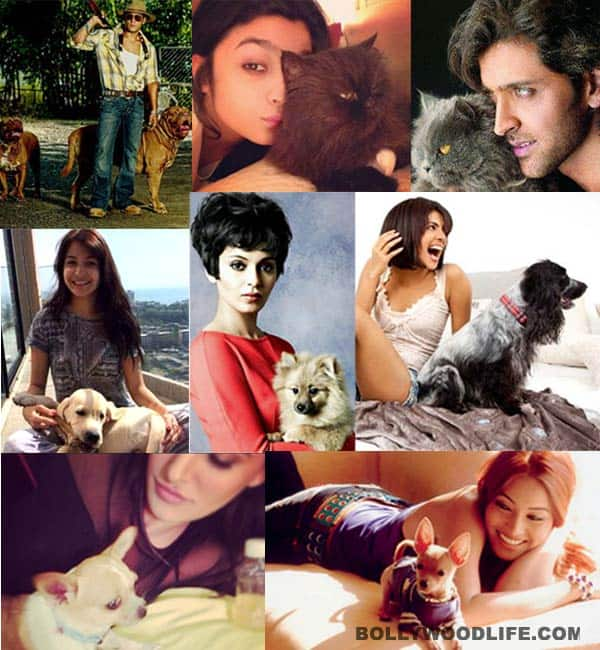 skip advertisement
Teaser-Collage-Pets-200314
Recently, Anushka Sharma took to Twitter to confess her love for her pet dog Dude. And she's not the only pet crazy B-townie. Here's a list of some more
When the entire world may abandon you, there's one being who will stay true to you, and that's none other than a pet. If there's one bond that stays strong through all ups and downs, it's the bond with your pet and it seems like most B-townies know this funda. Pets bring to you the happiness which no one else can and on the occasion of International Day of Happiness, let's look at some happy pets.
A lot of B-town folks have pets or have had pets whom they love more than their own life. Salman Khan, Shahrukh Khan, Priyanka Chopra, Anushka Sharma, Alia Bhatt and many other have pets that they love more than anything in the world. Let's take a look at some popular B-town pets.
Let's begin with Anushka Sharma, as she's the one who made us look for other Bollywood actors who have pets too on the occasion of International Day of Happiness. This Jab Tak Hai Jaan actor recently posted on Twitter how happy she was to be reunited with the love of her life. And of course, she wasn't talking about Virat Kohli but her puppy love, Dude, a Labrador pup. Even when she was shooting in Sri Lanka for Bombay Velvet, she used to fly in to Mumbai to meet her doggy dearest.
Anyways, Anushka isn't the only one who has pet tales to share. Here are some more.
Salman Khan: Though Dabangg Khan has had an image makeover with Being Human, this Khan is known for his failed relationships with his lady friends. However, Sallu is very loyal to his loyal four-legged friends. Salman was very close to his pet Myson and Myjaan. After Myson passed away, he got another dog, whom he named after Myson. And now, he has one more pet named My Love. And there's Veer too, who was named after his film. Apparently, Veer brought luck to his film, Veer!
Hrithik Roshan: The Krrish 3 actor was very close to his dog called Puggy, who passed away a few years ago. Puggy lived with Hrithik for eight years and the actor says that Puggy taught him a lot about love. Hrithik now has cat named Pearl. Like every cat-lover, Hrithik says that cats are happy just being on their own. When this cat-eyed hunk poses with his cat, they make an adorable pair, no? While we find the pic cute, Priyanka Chopra was rather scared of Hrithik's Pearl!
Priyanka Chopra: While PC is afraid of cats, she loves dogs. She has a dog called Brando, who is named after the American actor Marlon Brando, we hear. Well, pet lovers and their funny ways of naming their pets! Well, not only Priyanka and Hrithik from Krrish 3 have pets, but so does their co-star Kangana Ranaut, we hear.
Kangana Ranaut: This Queen actor has a pet pooch called Pluto. Apparently, Kangy was very scared of canines and Salman Khan helped her overcome this fear. What more, we hear that, on one occasion, Kangana's dog had chewed up her expensive shoes and the actor could do nothing but change the place where she stored her shoes. So much for pets!
Alia Bhatt: Enough of dogs for a while! This Highway actor is more of a cat person. Alia has a cat named Pika, who is named after a character from Pokemon. Don't laugh, peeps! How can you forget this talented actor has only just entered her twenties? Anyways, if you ask Alia about her cats, she can go on forever. In fact, Alia loves cats so much that she posed with one for Dabboo Ratnani's 2014 calendar. She has even done a photoshoot with her feline friends.
Kalki Koechlin: Here's another B-townie who loves cats. Kalki has a pet cat whom she calls Dosa and no doubt she's edibly cute! She'd even posed for PETA, in which the poster read, "Even the little tigers need you. Adopt, don't buy." Well, take a look at Dosa and you'll know why Kalki fell in love with the pretty lil tiger, whom she adopted from an agency! Let's move back to dogs now, who are quite loved by the B-townies.
Varun Dhawan: This actor has a lil Beagle called Angel. Dhawan had posted a pic with a caption, "She only wants to eat the shoe." Aww! Lady love or not, Varun Dhawan's blessed with a lovely Angel, no?
Sonakshi Sinha: Varun's pet isn't the only one to have a shoe-fetish. Sonakshi's dog loves shoes too. She had once tweeted, "Kuro n his fondness for my dads shoes. Jab tak chabaye na, he can sleep on em all he wants :p gnite!" Well, well. Kuro is cute as a button and we're sure the Sinhas don't mind his shoe-biting at all!
Sonam Kapoor: We wouldn't have been shocked if Sonam's pet had a shoe-fetish. However, seems like she hasn't passed it onto her pets. Sonam has three dogs named Coke, Bacardi and Feather, all three of which were adopted by her, we hear. How sweet, no? In a materialistic B-town, it feels so good when these actors opt for adoption over buying, hai na?
Bipasha Basu: Bips was gifted a Chihuahua by her ex-flame, whom she named Poshto. And guess what, Poshto would get along well with the above mentioned Ms Kapoor. You ask us, why? Well, Poshto likes to wear clothes designed by Bipasha's designer Rocky S. Bips had also tweeted a pic with a St. Bernard with a caption, "Highlight of the Day!Met Bentley and fell in love! Sweetest pet ever!Cutie pie!"
Tusshar Kapoor: Incidentally, Tusshar's dog too is named Poshto and it has nothing to do with Bipasha's dog. Poshto is one loved dog and only recently, Tusshar was spotted shopping for Poshto! Reportedly, he bought a basketful of toys for the lil one…
Nargis Fakhri: The last on our list today is the Main Tera Hero babe. While celebs are known to be self-obsessed, Nargis chooses to differ, slightly. The Rockstar babe had posted a selfie with her pet dog. But instead of focusing on herself, the picture shows more of her pet canine. Aww!
So BollywoodLifers, take a look at these pretty lil happy ones as they spread happiness through their cheeky pics and be happy on the International Day of Happiness…