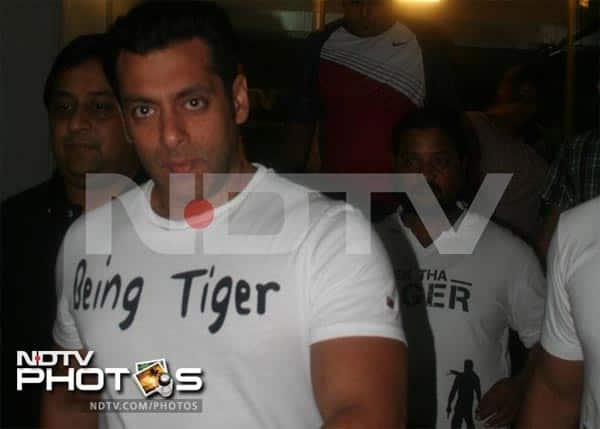 skip advertisement
We spotted Salman Khan – wearing a Being Tiger tee – at a TV channel's studio with director Kabir Khan
Salman Khan is seen everywhere for the promotions of his film Ek Tha Tiger. The actor who used to be media shy until a few years – to the point of being reclusive – has no qualms nowadays to travel and be seen marketing his movies to his audience. He is also active on social networking.
The actor was recently seen at the studios of NDTV where he interacted freely with his fans. He answered viewer questions on phone – which is a new thing for Sallu bhai! What we also loved was his T-shirt which said 'Being Tiger' to go with his film Ek Tha Tiger. The actor usually sports clothes from his Being Human Foundation line. But Katrina Kaif was conspicuous by her absence – the reason for which you will soon know if you keep reading this website! Meanwhile, click for more Salman Khan pictures below.
Ek Tha Tiger releases on August 15, Independence Day.
Photos: NDTV Movies