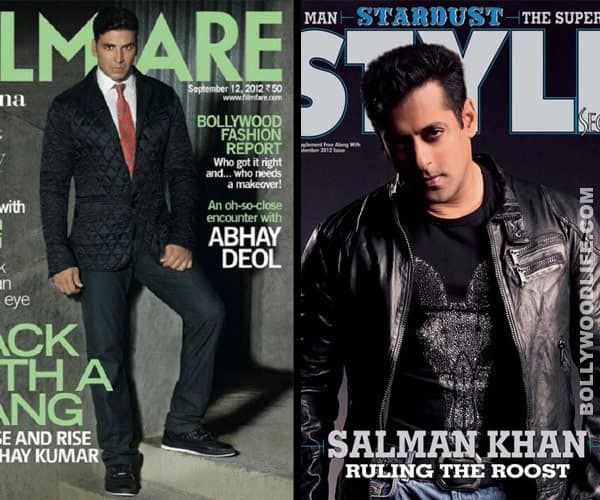 We found the two fabulously fit Bollywood hunks making their commanding presence felt on the covers of two very different glossies. Now you tell us who has the panache to overpower the other
Here are two fabulously fit superstars – Akshay Kumar and Salman Khan – both on the wrong side of their 40s, adorning the covers of magazines and generating more frenzy than expected. Nothing seems to stop these men from being promising bait at the box office and emerging victorious all the time with their mindless masala entertainers. While Akki has tasted super-success with yet another Rs100 crore netter in Rowdy Rathore, Salman has been pushing the envelope harder with every film he's done recently. Sallu's latest hit Ek Tha Tiger has bagged a whopping Rs 200 crore at the collection centers and it will not be wrong to call bhai an unstoppable box-office phenomenon.
And now the two super-successful, super-desirable men are battling it out to prove how stylish they are on celluloid and on the covers of film glossies.
Akshay Kumar stands tall on the cover of Filmfare's September edition. The man doesn't shy away from experimenting when it comes to his dressing. His black jacket with a pink tie, grey trousers and those funky shoes make him look leanly mean. The trademark angry look that Akki shoots at the camera lets you know why he's still called the Khiladi Kumar of B-town.
And then you have Salman Khan on the cover of Style magazine. The 47-year-old keeps it gaudy, flamboyant and absolutely over the top. Sallu's studded T-shirt coupled with a shiny bomber jacket is all optical overload. "Salman Khan – ruling the roost" says the tagline; we can't agree more with that one!