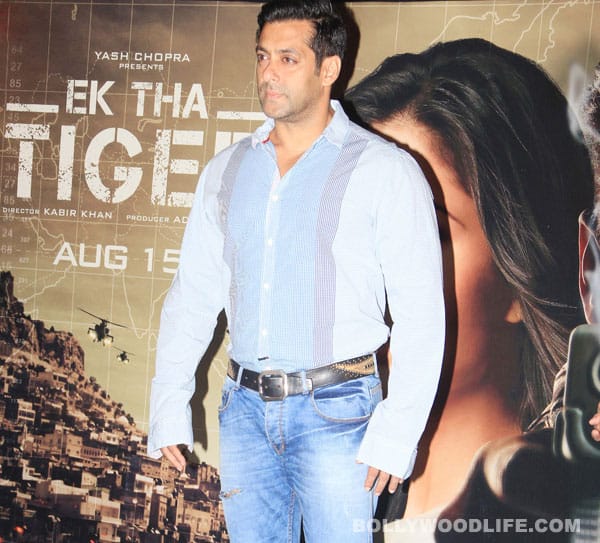 Salman Khan maintained silence for a minute at the Ek Tha Tiger song release in Mumbai. Also, national leaders condoled the death of the veteran wrestler-actor
Bollywood superstar Salman Khan along with other actors and media persons paid tribute to actor-wrestler Dara Singh, who passed away Thursday after a brief illness. Before beginning the launch of the first song of his movie Ek Tha Tiger at the Gaiety Galaxy in Bandra, Mumbai, Salman requested everyone to maintain a minute's silence in the memory of the late legend.
"He (Dara Singh) was the most amazing person to work with. I know his children really well. As a person, he was the most incredible. It is a huge loss to us and god bless his soul," Salman said. The film's director Kabir Khan and Salman's co-star Katrina Kaif were also present. Dara Singh was admitted to the Kokilaben Hospital Saturday after a heart attack. On Wednesday, he was shifted to his home from hospital. He passed away at his residence in Juhu in the morning.
Prime Minister Dr Manmohan Singh also expressed deep grief and said he had been an inspiration and icon to many generations in the country. In his condolence message, the prime minister said: "I am deeply saddened to learn of the passing away of Shri Dara Singh, who has been an inspiration and icon to many generations in our country. A self-educated son-of-the-soil, he rose to the heights of the entertainment world, sports arena and public life with humility and grace. His contribution to the Hindi and Punjabi cinema, wrestling and the Upper House of the Parliament will be remembered by millions."
Vice President Mohammad Hamid Ansari said he was "deeply grieved" by the sad demise of the former Rajya Sabha MP, wrestling champ and actor. "His acting career was most memorable for the intensity and diversity of characters that he had portrayed. His role as a nominated MP is remembered by one and all," he added. Ansari and his wife sent their heartfelt condolences to the members of the bereaved family and the wide circle of his friends and admirers. "We pray to the Almighty to grant them the strength and fortitude to withstand this tragedy."