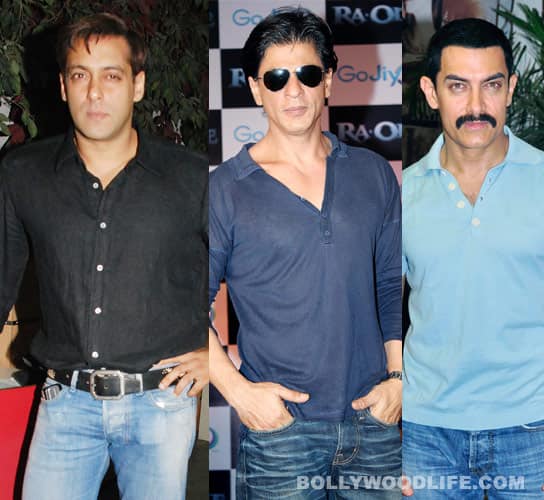 As a brand new year dawns, it's time to put 2011 behind us and look forward to what 2012 has in store. Here are some hopes for Bollywood's top stars, including the four Khans
Shahrukh Khan – 2011 proved with RA.One and Don 2 that the Badshah's India base is slowly eroding while his overseas market remains robust. Yes, both of those films made some money, but they were surrounded by carping detractors and naysayers simply because the final released products did not match the King's high and exacting standards. Here's hoping that his leading role in Yash Chopra's comeback film brings back the old magic. Cineswami knows that SRK is making a conscious effort to break new ground with each film, but sometimes all the fans want is old wine in a new bottle.
Salman Khan – The man had a humongous 2011 with Ready and Bodyguard, but unlike SRK, in Salman's case it's too much of old wine in an old bottle. Sure, the fans are lapping it up, but he owes it to them to try something new. Thankfully, he has the hatke Kabir Khan's Ek Tha Tiger for YRF due in 2012 that also reunites him with old flame Katrina. There's also Dabangg 2 due, but without Abhinav Kashyap's scripting and directing acumen it's going to be nowhere near the first one's smartness, wit and humour.
Aamir Khan – What can we say? The perfectionist continues to astound us. It was a low key 2011 for India's surest box office draw, but he made his mark in wife Kiran Rao's Dhobi Ghat and shepherded Delhi Belly to being one of the standout hits of the year. His police procedural Talaash is keenly awaited. No other star would even touch a risky subject like a thriller without songs, but Aamir can and will make it work. And Reema Kagti is no slouch as a director as Honeymoon Travels proved.
Saif Ali Khan – Like Aamir, Saif too had a subdued 2011 with just a trifling appearance in the trifling film that was Aarakshan. But 2012 will see him in James Bond mode with the long delayed and keenly anticipated Agent Vinod, besides the Race sequel. With some luck Homi Adajania's Cocktail that reunites the Chhote Nawab with Deepika Padukone should also be released in 2012.
Abhishek Bachchan – Simply put, the man needs a hit. Badly. Dum Maaro Dum and Game didn't do anything for him in 2011. Players isn't carrying much buzz, already being equated with Game. If it works, then it'll be a shot in the arm for both Abhishek and Neil Nitin Mukesh. There's hitmaker Rohit Shetty's remake of the original Golmaal – Bol Bachchan – where Aby's baby will have the added crutch of Ajay Devgn's presence.
Ajay Devgn – He'll want to forget Rascals in a hurry, as will Sanjay Dutt. However, he'll carry fond memories of Singham. Priyadarshan's Tezz is due in 2012, but let's not hold our breath for that.
Hrithik Roshan – He tasted success with Zindagi Na Milegi Dobara in 2011 but he'll be hoping for a solid solo hit with the Agneepath remake that rests solely on his sinewy shoulders, Sanjay Dutt's Kancha Cheena notwithstanding. It's unlikely that the Krrish sequel will be released in 2012, but we live in hope.
Akshay Kumar – The poor man has seen a steady drop in his popularity thanks to his poor choice of films like Patiala House and Thank You in 2011. While there always will be a market for his brand of brain-dead, infantile humour, he can't carry it off with the pizzazz of say, Salman. 2012 will be a make or break year for him with crores riding on Joker, Housefull 2 and Rowdy Rathore that all cater to his core lowbrow market. But the film that should be his salvation in 2012 is Once Upon a Time Again.
Of the rest, Emraan Hashmi will continue ploughing his lonely yet successful Bhatt furrow, Ranbir Kapoor and Imran Khan no doubt regale the youth segment and the audience will give the cold shoulder to John Abraham. As for the rest, do we really care?