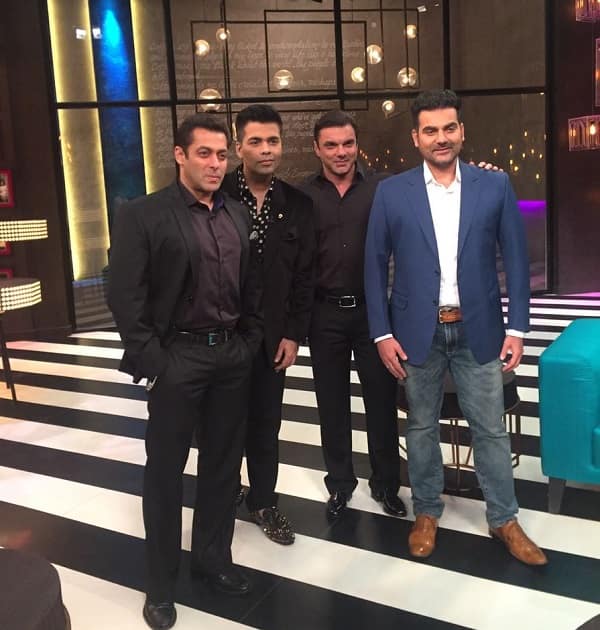 Salman Khan made his debut on the popular chat show Koffee with Karan in its last season. He is BACK for the new season as a guest on the 100th episode of the show. The actor has shot for episode with the host Karan Johar and guess who accompanied him on the couch? Bollyoowdlife called it weeks ago before this happened – Salman is going to feature on the show with the two souls dearest to him, brothers Arbaaz and Sohail.
Just imagine! The three Khan bros on the couch together. This episode is sure going to be a laugh riot. Usually it is the host Karan Johar who grills the guests coming on his chat show. But we know the three Khans and their shenanigans when they get together. They must have roasted Karan a lot.
Last time when Salman came on the show, he made Karan sink deep in his sofa by embarrassing the hell out of him. His remark that he is a "virgin" still remains his most popular quote, EVER. Get ready for a series of quotable moments from the show as this time the power of the Khans will be multiplied by three.
At Koffee with Karan shoot #koffeecentury pic.twitter.com/E8R8yKYfFU

— Salman Khan (@BeingSalmanKhan) December 1, 2016
Thank you so much Salman for coming on our 100th episode of #koffeewithkaran ….#koffeecentury…. https://t.co/e8lyGQMEaV

— Karan Johar (@karanjohar) December 1, 2016
Also not to forget, that Karan Johar has his ways of making things go take a stroll in the controversy lane. He will ask a numerous questions that we all are waiting for someone to ask the Khans. Like if Salman Khan is indeed dating Iulia Vantur? Or the other stuff his family is dealing with right now.
So far, Shah Rukh Khan and Alia Bhatt, Twinkle Khanna and Akshay Kumar, Varun Dhawan and Arjun Kapoor, Ranbir Kapoor and Ranveer Singh have graced the couch in this season. And every episode seems better than the last one. The new episode featuring Salman Khan, and his brothers has all the potential in the world to beat every KWK episode ever. Damn! If only we had a time machine and go forward to the day this episode airs. At least release a promo guys?
When Ranbir Kapoor was disinterested in what Ranveer Singh was saying.

We're definitely not trying to make up things here. We can't help but notice that of all the pictures that have been released so far, none was able to portray Ranbir and Ranveer's friendly bonding. They all shouted Discomfort. Especially this one, a viewer does get a feeling that Ranbir Kapoor was surely uninterested in what Ranveer Singh was saying and as a result he chose to ignore him. He was looking something below which clearly hints at dissatisfaction and disinterest.

Image credit: Facebook

The distance between Ranveer Singh and Ranbir Kapoor says a lot

We asked a body language expert what these pictures say about the connection between Ranveer Singh and Ranbir Kapoor. He observed that in most pictures the duo has maintained a safe distance despite being in the same frame. There is no physical contact whatsoever. Ranbir has his hands in his pockets. Pocketed hands hint at the person's unwillingness, mistrust and reluctance. And both the actors' lowered eyebrows is also a sign of annoyance or sometimes displeasure.

Image credit: Facebook

When Karan Johar was a middle man for Ranveer Singh and Ranbir Kapoor

If you check Ranbir and Ranveer's expression they have a serious impassive facial expression. Clearly concealing their true feelings about each other. Pursed lips suggest that the person has formed an opinion that is opposite to what is being said or done. It also hints at dissension. Seems like Karan Johar could sense that all was not well between these two actors and he tried his best to ease out the tension in the atmosphere.

Image credit: Instagram

Ranveer Singh and Ranbir Kapoor smile but for a selfie with fans

The two stars' expressions become more relaxed and the picture says it all. This time Ranbir looks at the camera directly while Ranveer winks which suggests that he's more at ease here than in earlier snaps. Looking directly at the camera saves a lot of unease in a situation you aren't comfortable in. Also Ranveer's wink kind of takes the stress off the two stars posing together. They should thank the fans who play a cushion here.

Image credit: Facebook

When Ranveer Singh made an effort but Ranbir Kapoor failed

While the lady in this photograph is clearly thrilled, Ranveer continues with his wink while Ranbir's expression couldn't be decoded. The picture looks as if Ranveer Singh is trying to make efforts but Ranbir's straight face conceals whatever he is thinking.

Image credit: Facebook

Ranveer Singh and Ranbir Kapoor's distance on the couch says a lot about their equation

As an audience, we had a feeling that Ranbir Kapoor and Ranveer Singh sat miles apart from each other on purpose. Though it is very common and Varun and Arjun too maintained the same distance but there was an unspoken aloofness between them. Arjun and Varun giggled together while the latter even slept on Arjun's lap. But the same camaraderie was missing between RK and RS. And knowing how Ranveer is, he can get comfortable with anyone but guess he couldn't connect with Ranbir this time.

Image credit: Instagram

When Ranveer Singh and Ranbir Kapoor thanked Arjun Kapoor

Just notice the smile that came on these actors' faces as soon as Arjun Kapoor joined them on the couch. We assumed that Ranbir and Ranveer heaved a sigh of relief after seeing a common friend in Arjun Kapoor. Ranbir was definitely happier in Arjun's company that he went to an extent of kissing him. We assume Karan Johar must have even blessed Arjun Kapoor in his mind for trying to ease the tension at least for a few minutes.

Image credit: Facebook