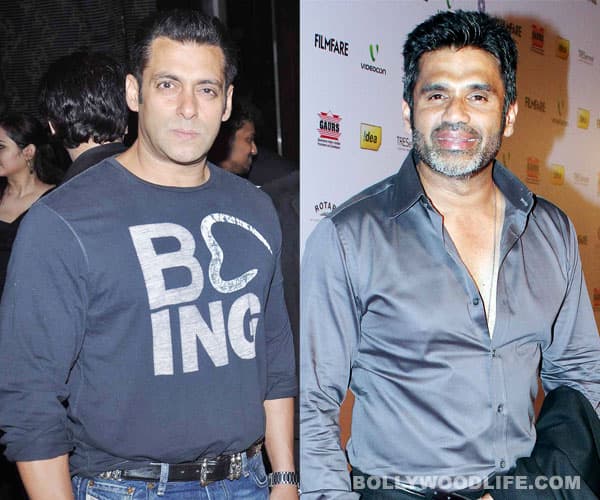 The megastars had a heated face-off with Priyan on the eve of the CCL match between Mumbai Heroes and Kerela Strikers
Although the Celebrity Cricket League is not as fiercely contested a sport as the IPL, the nature of the game does lend itself to altercations at times. And on Saturday, a similar situation led to an angry showdown between Salman Khan, Sunil Shetty and director Priyadarshan.
Priyan, who heads Kerela Strikers, was accused by Salman and Sunil of cheating in the game and not following the rules. This after the Kerela team decided to include Madan Mohan, a Ranji cricketer-turned-actor, into their team. According to Mumbai Heroes, Mohan has acted in only one film, that too made in a hurry, and it wasn't fair on the part of the Strikers to take advantage of his cricketing experience. However, this charge was vehemently refuted by Priyan who accused the Mumbai stars of getting Madan Mohan confused with some other person of the same name.
But Sunil Shetty, it seems, wasn't ready to let go of things. He refused to come on the field and start the match and the altercation turned uglier. However, with the crowds swelling up in the grounds, hungry for action on the field, the actors had no choice but to keep the slug fest for some other day.
Both sides parted on a bitter note, and Priyan was even heard lashing out at the Mumbai team, threatening to pull out of the tournament. "I am extremely disturbed by these accusations of foul play. If this continues, I don't want to continue with this next season," he said.
Well, if Priyan is wrathful, Salman and Sunil are no less. We're sure they would want to meet the Strikers once again on the field, since this time they lost a bitterly contested battle by three wickets.
So what say BollywoodLifers? Are you folks ready for a showdown between the two teams?